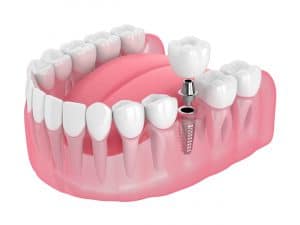 With dental implants, we help replace missing teeth and restore function and health to your smile. In addition, we want to complete them with restorations that look natural and provide a dependable chewing surface. In today's blog, your Houston, TX, dentist will look at how we create a natural-looking restoration.
The Implant Post
First, let's talk about the base that we use to build your new smile. A dental implant, as the name suggests, is inserted into the jawbone via oral surgery. The post we insert is made from titanium, which is biocompatible and accepted by the body as natural structure. The bone tissue in the jaw then bonds it, supporting it like a root. The body then resumes the flow of key nutrients the jawbone, to prevent further loss of mass and density and ensure your smile stays whole for years to come.
Planning and Placement
We first need to assess the cause and extent of your missing teeth. After all, if you have underlying oral health issues that could threaten your implant post then we need to offer treatment. Afterward, we will use digital technology to plan and guide the placement process, inserting the post at the right angle to support a crown or denture, and avoiding any sensitive tissues. We administer a local anesthetic and sedation to ensure you remain calm and comfortable throughout the process.
The Restoration
Once the post is in place and osseointegration has occurred, bonding it with your smile, we will move forward with the procedure. We then attach an abutment that holds a crown in place for individual posts. The crown is custom-made to ensure a lifelike appearance, and to also ensure your new tooth's ability to absorb bite forces and daily pressure. If you have lost several teeth, then multiple posts could secure a bridge or denture that never slips, lasting longer than crown-secured or removable options and providing a natural-looking appearance. Form there, routine care at home and in our office every six months helps preserve both your natural teeth and your new ones. We want you to enjoy a lifelike and long-lasting solution to tooth loss, preserving the health, function, and beauty of your smoke. If you have any questions about how we replace missing teeth and create lifelike restorations, then contact our team today. Together, let's start your journey to a whole and healthy smile!
DO YOU HAVE QUESTIONS ABOUT OUR RESTORATIONS?
Our team wants to prevent tooth loss from damaging your smile, and help you smile with confidence. Which is why we offer implant dentistry and natural-looking dental restorations. For more information on creating lifelike tooth replacement options, then contact Healthy Smiles Family Dentistry in Houston, TX today by calling 281-974-4494.