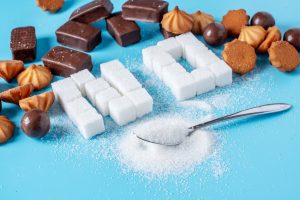 Along with how well and often we brush and floss, what we eat and drink also has a major impact on the health and beauty of our smiles. In today's bog, your Houston, TX, dentist will explain how better snacking habits and meal selections could help improve the health of your smile, and even avoid issues like teeth stains and bad breath.
The Dangers of Sugar and Starch
Sugar is a popular meal for some forms of oral bacteria, which converts the particles of sugar left on and between your teeth into acids. This elevates the levels of oral acidity, and also creates plaque buildup. The plaque then coats the teeth, and cannot be removed with brushing and flossing alone. Over time, the buildup then erodes outer enamel and inflames gum tissues, boosting the risk of everything from decay and infection to gingivitis and gum disease. Items high in starch are a danger as well, as particles could cling to the teeth to be broken down by bacteria.
Choosing Healthier Options
You don't have to forgo sugary and starchy items completely. Instead, try to save them for bigger meals and follow them with a glass of water to help cleanse the smile. You could also excuse yourself to floss after each meal. At snack time, try for a healthier option, such as sugar-free gum, nuts, low-fat yogurt, whole grain breads and crackers, cheeses, and if course, fresh fruits and vegetables. These also contain many nutrients essential for your smile, such as vitamin C and D. Drink plenty of water too! Remember that many beverages that are supposedly healthy could contain high levels of sugar and acids, such as sports drinks and fruit juices.
Removing Trapped Food Particles
To keep plaque under control, be sure you brush your teeth when you wake up and once again before going to bed. Each session should take two minutes and include the use of a fluoride toothpaste. We also suggest flossing before bed too, as this removes what is out of reach for your toothbrush's bristles. See us every six months too, as we can keep an eye out for the warning signs of cavities, and also remove all plaque and tartar with a thorough dental cleaning. If you have any questions about healthy snack and meal options, or how to better care for your smile in between six month visits, then contact our team today.
Do You Have Questions About Diet and Oral Health?
With a few simple changes to your diet, you could help avoid the onset of issues like tooth decay and gum disease. For more information on our preventive treatment options, then contact Healthy Smiles Family Dentistry in Houston, TX today by calling 281-974-4494.