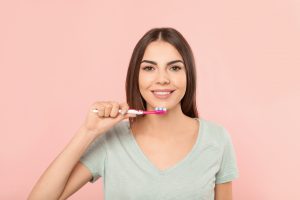 How often do you brush and floss your teeth? Routine and proper care at home could help you enjoy a brighter smile, with fresher breath and a lowered risk of tooth decay and gum disease. In today's blog, your Houston, TX, dentist will look at how to properly clean your smile, and help you enjoy optimal oral health.
The Dangers of Plaque Buildup
When you eat lots of food high in sugar or starchy, or consume beverages with high a amount of sugar and acids, this could mean increased risk of plaque buildup. Plaque develops when bacteria break down the particles of sugar and starch caught on or between the teeth due to our foods and drinks. Lack of proper care could mean these particles remain in place to be consumed, a process that coats the teeth in plaque and then eventually weakens enamel and inflames gum tissue to cause tooth decay and gum disease. To avoid these complications, as well as bad breath and teeth stains, you need to care for your smile daily in between your six-month checkup and cleaning visits.
Brushing Each Day
You should pick up a toothbrush, whether manual or electric, with soft bristles. The soft bristles prevent inadvertent enamel damage if you brush too hard. Be sure you use a toothpaste that contains fluoride too, as fluoride strengthens the outer enamel. You should brush carefully in the morning and again before bed, taking time to reach every available surface of your smile. The entire process should take no less than two minutes. This process should start as soon as your child has a tooth that erupts, and continue through adulthood.
Flossing Nightly
Even more vital, you also need to floss every evening. Floss removes what a toothbrush's bristles alone cannot reach, such as the bits of food caught between teeth or along the gum line. Take a length of tape about 18 to 20 inches long. Wrap each end around your thumbs and then hold it taut with your index fingers. Move the tape up and down each side of every tooth, dipping below the gum line when you do to extract trapped food particles. Doing so helps reduce the risk of gum inflammation, and protects your smile from gingivitis and gum disease too.
If you have any questions about brushing and flossing your teeth, or if you would like to schedule your next checkup and cleaning visit, then please contact our team today. Let's improve our oral health in 2201!
DO YOU HAVE QUESTIONS ABOUT HYGIENE HABITS?
We want to help you enjoy optimal oral health with daily care from home. For more information on avoiding major buildup and improving the health and beauty of your smile, then contact Healthy Smiles Family Dentistry in Houston, TX today by calling 281-974-4494.