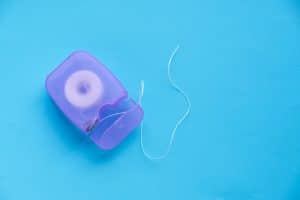 With a good brushing routine in place, you can keep your smile safe from tartar buildup, cavities, and gum disease. If you are committed to fighting the accumulation of bacteria and food debris that can lead to oral health troubles, you should brush for at least two minutes twice a day, and work to clean those spaces that are especially hard to reach. With that said, it is also important to recognize that a toothbrush is not ideal for cleaning certain areas of your smile. To effectively clean between your teeth, make sure you floss at least once per day. By flossing, you are able to remove bacteria and food debris that are accumulating between teeth. Our Houston, TX dentist's office provides feedback about your oral health at every routine dental exam, and we can help you keep your teeth healthy by providing professional cleanings at these visits.
How Does Flossing Currently Fit Into Your Oral Hygiene Routine?
Is flossing you do on a daily basis, or is it something you do less frequently? Unfortunately, some people only make a point of keeping floss at all because they want to remove food that becomes painfully or awkwardly wedged in place. If you are neglecting these spaces on a daily basis, it can be difficult for you to fight the buildup of bacteria and food debris over time. When tartar deposits form, they are fixed in place until your next professional cleaning. Their presence makes it harder to prevent cavities and gum disease, so you are more likely to need restorative dental work at your next appointment if you are not preventing this buildup!
Sticking To A Consistent, Thorough Flossing Habit
You should floss at least once on a daily basis. While doing so, your goal should be to fully clean the spaces where your teeth meet. Some people feel satisfied by the work they have done simply after moving the floss string back and forth but neglect to work the string vertically. When this happens, the routine becomes less effective, particularly when it comes to defending against gingivitis. Bring the floss string all the way down to the gum line and back up again to completely rid these areas of harmful debris.
What Else Can You Do To Avoid Problems With Your Dental Health?
A healthy smile can be good for your appearance, and it can help you maintain better overall health. In order to keep protecting yourself against problems that might demand the placement of dental fillings and dental crowns, take care to limit your diet by cutting out sugary products. Because so many snacks and beverages have a surprising amount of sugar, people can fail to realize just how much they consume because they only focus on the content of their meals.
Our Houston, TX Dentist's Office Helps Patients Prevent Cavities
Our Houston, TX dentist's office is prepared to help patients in and around our community maintain happy, healthy smiles! To find out more about how we can help you, please call Healthy Smiles Family Dentistry at (281) 974-4494.