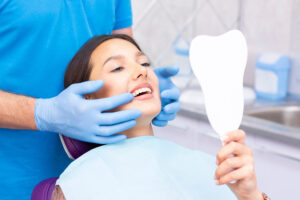 The positive effects of preventive dental appointments should not be ignored. When you skip or delay these visits, you miss out on protection from a number of threats, including threats to your periodontal health. In time, gum disease can become serious enough to threaten you with tooth loss and problems for your general health. Fortunately, if you do show signs of gingivitis, your Houston, TX dentist can recommend protection in the form of an ultrasonic scaling. This is a service that will remove the bacteria that are gathering on the roots of your teeth and creating problems with surrounding soft tissues. Using an ultrasonic tool to provide this care will help make it more comfortable while still effectively tending to this harder to reach area.
Recognizing And Responding To Signs Of Gingivitis
There are actually signs of gingivitis that you can recognize without your dentist's help. This does not mean you should take the absence of obvious symptoms as proof that you have no problems. Identifying problems lets you recognize the need for a more thorough smile care routine; doing so can also make the need for a dentist's appointment apparent. Look out for issues like bleeding when you brush and floss, problems with tissue sensitivity or discoloration, problems with gum recession, and a heightened difficulty in managing bad breath if you think you might be struggling with poor gum health.
How Ultrasonic Scaling Helps You Defend Your Periodontal Health
By providing an ultrasonic scaling during your appointment, we can help you maintain your periodontal health during a preventive dental visit. This service will go beyond the cleaning that is provided during a general exam. The ultrasonic tool that we use can break apart deposits of bacteria with the help of sound waves. Using this approach can make treatment in a sensitive area more comfortable, providing the results that you need while making your care more comfortable.
More Benefits To Regularly Scheduled Preventive Care
There are many advantages to being consistent with regular dental exams and cleanings. These visits alert you to problems with gingivitis as well as dental decay. A cavity that is caught early will still require restorative dental work, but we can preserve more of your healthy enamel and make your care more conservative. We also look out for the issues that point to problems with poor jaw movement and alignment. These signs of TMJ disorder can lead to persistent headaches and other discomforts when not managed.
Talk To Your Houston, TX Dentist About Ultrasonic Scaling!
Through ultrasonic scaling, we can help patients who struggle with gingivitis fight an infection and prevent further troubles with their periodontal health. For more information on the benefits of this and other services that we provide, contact your Houston, TX, dentist, Dr. Vlachakis, by calling 281-974-4494.