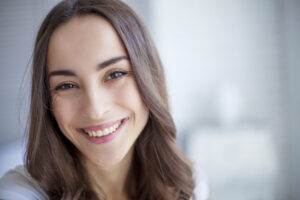 If you are entering the new year feeling a lack of confidence in your smile, it will be more difficult to start 2022 on a truly positive note. Fortunately, you can find that the right cosmetic dental procedure can help, and that you can see the changes you want in less time than you anticipate. Our Houston, TX dentist's office is able to offer different services that can help you, including services that rely on porcelain veneers. With veneers, we can hide problems with teeth that look discolored, appear damaged, or have issues with their shape or size. Even if you have many different concerns about the way you look, you can find that these restorations can provide results in just two appointments!
How Do You Currently Feel About Your Smile?
There are many reasons why people start to lose confidence with their appearance. Some lose confidence as their enamel starts to look dull. For others, damage or gradual wear and tear will make unwelcome changes to the way you look. If you have these issues, or if your problems stem from concerns over teeth that are naturally misshapen, our practice can offer results with cosmetic dental work. Your options for treatment include work with porcelain veneers. What makes this appealing is that your restorations can hide multiple flaws that currently make you self-conscious. Even those who have multiple issues they want to treat can see the changes they want with this single procedure.
Plan Your Cosmetic Treatment With Veneers
Your custom porcelain veneers will be made after we take care to measure and evaluate your teeth. Making your restorations the right shape and size will be important for confirming they will both make your desired changes and preserve your natural appearance. The first appointment is the one where your dentist gathers measurements and also provides preparatory work for your enamel. At your second visit, the restorations made for you will be secured to provide lasting improvements!
Learning About What Cosmetic Dentistry Can Do For You
As you start to look into cosmetic dentistry, you can find that there are several procedures that are available that can positively change your appearance. We can offer teeth whitening treatment to target the common issue of enamel stains. You can also look into the cosmetic benefits of treatment with dental crowns, which provide esthetic support as well as changes to your bite function.
Talk To Your Houston, TX Dentist's Office About The Positive Impact Of Veneers
Through treatment with porcelain veneers, we can help you make many welcome changes to your smile, giving you a better, more confident appearance to start showing off in the new year! If you would like to find out more, reach out to your Houston, TX, dentist, Dr. Vlachakis, by calling 281-974-4494.