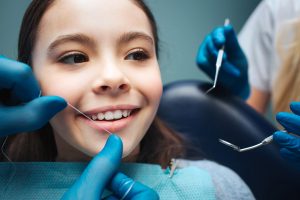 We know that children benefit from the same preventive care as adults, and that they also benefit from unique treatments as well. In today's blog, your Houston, TX, dentist is discussing our approach to children's dentistry, and how we help kids of all ages enjoy strong, healthy smiles for years to come.
Checkups and Dental Cleanings for Kids
First, kids need regular preventive appointments just like adults do, so they should have a checkup and cleaning every six months. The first visit should happen just after the first baby tooth erupts, and regular six-month appointments start at age two. We will carefully examine the teeth and gums with advanced technology, so we identify issues like tooth decay, impacted teeth, baby teeth that don't fall out on schedule, and developing misalignment in the earliest stages. We also clean the teeth, removing all harmful plaque and tartar to help prevent gingivitis and cavities. These visits also allow us to discuss proper oral hygiene and instill good habits, while also reducing the risk of dental anxiety in later years!
Fluoride and Dental Sealants
Our team also offers unique treatments to help prevent the onset of tooth decay. First, during reach checkup and cleaning appointment, our team will apply a special fluoride varnish to the teeth, which helps shore up the enamel and prevent cavities. We could also offer dental sealants. The rear molars are hard for kids to reach when they brush and floss, so food particles could remain trapped between them, increasing the risk of cavities. However, with sealants we place a plastic coating over these teeth, preventing anything from becoming stuck between them! This protective layer could last between 5 and 10 years, and wears away naturally with time.
Our Biocompatible Fillings
When children complain about aching teeth, or if we uncover the earliest signs of cavities in a six-month visit, then a filling is needed. Even if the decay is in a baby tooth, care is needed. Waiting for the tooth to fall out could mean the cavity has months or even years to grow and spread, leading to painful symptoms, infection, or even premature tooth loss, a major factor in the onset of dental misalignment. To avoid these complications, we offer biocompatible fillings. Made from a metal-free and lifelike materials, these blend with the teeth so you child continues to enjoy a bright smile! If you have any questions about how we treat tooth decay in childhood, or about our preventive treatments of kids of all ages, then contact our team today.
Schedule a Visit for Your Child Soon
We offer children's dentistry for kids of all ages. For more information on helping little smiles stay strong and healthy, then contact Healthy Smiles Family Dentistry in Houston, TX today by calling 281-974-4494.