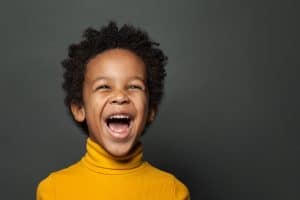 When was the last time you made an appointment for your child to see the dentist? Routine visits every few months are essential for keeping little smiles strong and free of issues like cavities or gingivitis. In today's blog, your Houston, TX, dentist will look at what we do to protect smiles of all ages and ensure better oral health.
The Happy Visit
The first visit a child has with our office is known as a happy visit. We refer to them as this because they rarely involve any kind of treatment. Instead, our team takes time to get to know your child and help them understand the importance of routine oral healthcare. We perform a brief exam to make sure teeth are eruption as they should, and to assess the health of the smile. Typically, this visit happens within six months of the first baby tooth's eruption, at around age one.
Checkups and Cleanings
Following the happy visit, we will likely schedule a checkup and cleaning once every six months. A checkup lets us keep an eye on the smile and watch for demineralization and gum inflammation, which could identify the risk of tooth decay and gingivitis. We also clean the teeth, which means removing harmful plaque and tartar buildup from the surfaces of the smile. These visits also help instill good habits, and help your child become accustomed to seeing the dentist. Kids become less likely to experience dental anxiety too!
Unique Treatment Options
Our team also has preventive care to help protect the smile and prevent the onset of serious concerns. For example, during each six month visit we apply a fluoride varnish to the teeth, which helps strengthen the enamel and prevent demineralization. We also have dental sealants, which are an acrylic coating that keeps food from becoming caught between the hard-to-reach rear teeth, limiting the risk of cavities. Should a child have decay that needs attention, we may place a biocompatible filling made from a metal-free and lifelike composite resin material. A filling only takes one visit to place, and helps prevent the onset of infection or the premature loss of a baby tooth. If you have any questions about children's dentistry, or if you would like to schedule a visit for your child, then contact our team today. We want to help your entire family enjoy your best possible smiles, whether you're 6 or 60!
OUR HOUSTON, TX DENTIST'S OFFICE OFFERS CHILDREN'S DENTISTRY
At our Houston, TX dentist's office, our team wants to help kids in our community enjoy their healthiest possible smiles with routine care and preventive treatments. Find out more about our approach to children's and family dentistry, by calling Healthy Smiles Family Dentistry at (281) 974-4494.