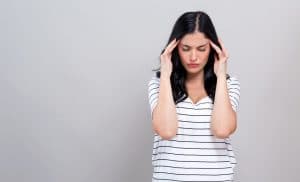 Chronic aches and pains in your face, head, and neck can sometimes be traced back to a problem with your bite function. You may be surprised at just how important a proper bite is when it comes to preventing discomfort. In addition to making your jaw ache, or causing stiffness in the joints and muscles, poor bite function or alignment can lead to neck pain, facial discomfort, and even chronic headaches. Our Houston, TX dentist's office is able to help patients deal with these issues with TruDenta. Through TruDenta, we can offer a nonsurgical solution that involves carefully changing your jaw movement and alignment to prevent further problems.
A Flawed Bite Can Cause Problems For Your Joints And Muscles
Tooth decay and gum disease are not the only issues that can impact your dental health and well-being. If you develop a problem with your bite alignment, or if you develop an awkward movement, it can put serious strain on the joints and muscles. In time, this can lead to persistent pains that you have to deal with, it can increase your risk for developing a teeth grinding habit, and it can even be responsible for chronic headaches.
Using TruDenta To Improve Your Quality Of Life
With TruDenta, your dentist is able to determine what is happening with your bite function, and see how changes to your jaw alignment and muscle movements can improve your quality of life. The first step will be to carefully study your current bite movement, and see how the operation of your jaw might put you at risk for inflammation and tension of your joints and muscles. When problems are identified, we can set out to making positive changes that reduce tension, leading to freedom from chronic pain!
Other Treatments That Can Improve Your Bite
If you have missing teeth, or problems with teeth in poor condition, it may be difficult for you to maintain a natural bite. As part of our commitment to helping patients struggling with TMJ disorder and headaches, we can determine if there are any oral health issues that have harmed your dental function. Once identified, we can make plans to restore your smile so that these issues no longer impact you.
Your Houston, TX Dentist Can Help You Deal With Chronic Headaches And Dental Pain
At our Houston, TX dentist's office, we are prepared to help patients who have been struggling with jaw pain, teeth grinding, and chronic headaches. TruDenta treatment allows us to carefully retrain your jaw movement, which can bring about an end to your frequent aches and pains! This is one of many services we can offer to improve your oral health and quality of life. If you would like to learn more, please call Healthy Smiles Family Dentistry at (281) 974-4494.