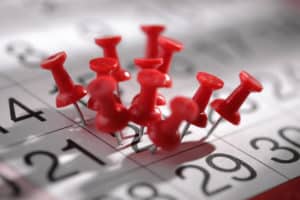 If you've been dragging your feet on taking care of your smile, this month could give you the motivation you've been hoping might show up. After all, it's National Dental Hygiene Month! While the goal is to take time to take a long hard look at the ways you're caring for smile with your personal hygiene (like brushing and flossing), it's also a good catalyst for becoming serious about all aspects of your dental care. Ready for a little more inspiration? We've got it.
Don't Overthink It
Don't let yourself become overwhelmed at the thought of what dental care requires. If you do, you may discover that while caring for your oral health is very simple, you may still feel the need to avoid it. Take our advice and consider the basics. Look at what you need to do now instead of planning out your entire year:
If it's been more than six months since your last preventive care visit, schedule one.
If you haven't been brushing and flossing every day (brushing twice, flossing once), begin doing it.
Become More Familiar With Our Care
For some patients, straying significantly from dental care becomes a reality when they assume getting back on track is too difficult. You might think this because you haven't been brushing and flossing. Or, you might be struggling with an uncomfortable bite, damage, cavities, jaw discomfort, headaches, and other issues that seem insurmountable. However, you're overlooking the fact that we provide comprehensive care for the simple stuff and the complex issues. Do yourself a big favor: Check out our website. We can take care of any issue that arises. To get started, simply schedule a dental consultation with us. (We can even help you get your dental hygiene all sorted out).