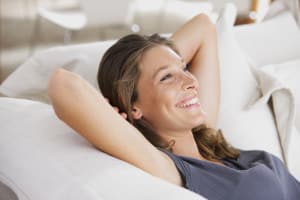 Because dental treatment may sometimes involve one or more complex procedures, anesthesia and dental sedation are frequently a necessary part of treatment. Local anesthesia is administered to block nerve signals and reduce physical discomfort, while sedation and general anesthesia help calm your nerves and keep you relaxed. For patients who experience dental fear or phobia, or even an excessive amount of anxiety, sedation can prove particularly beneficial by helping them receive treatment. If your care requires the use of anesthesia and/or sedation, then we can tailor its administration to your specific needs and preferences to better ensure a comfortable, pleasurable experience. 
The Advantages of Dental Sedation
More Efficient Care
Whether you're replacing one or more lost teeth with dental implants or receiving full-mouth reconstruction, we can accomplish more when you are calm. Because you must remain conscious during the procedure, we offer a variety of conscious sedation methods that will keep you relaxed so we can complete more of your treatment at one time. More efficient care means less time in the dentist's chair, and fewer visits to our office for treatment.
Overcoming the Anxiety Obstacle
Even if your necessary treatment is relatively minor, anxiety can cause you to hesitate to seek the care you need, or prevent you from seeking it at all. With the right dental sedation method, we can alleviate that anxiety before and during your treatment, which can encourage you to overcome your anxiety for good. Throughout your procedure, local anesthesia can be applied as needed to reduce discomfort; likewise, your level of sedation can be adjusted accordingly if you begin to feel anxious or fidgety during your surgery.