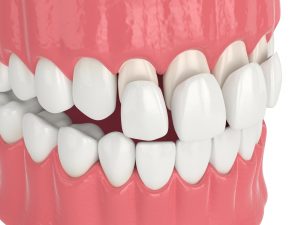 We can brighten teeth with teeth whitening, but what if you have concerns about the shape and alignment of your teeth? What if you have stains too severe to be removed with professional whitening solutions? To offer a smile makeover and address multiple esthetic issues at once, your Houston, TX, dentist could recommend perfecting your smile with porcelain veneers.
Creating Your Custom Veneers
The key to their lifelike appearance and perfect fit is the fact that each one is custom-made for your smile. To do so, we start by removing a thin layer of enamel from the outside of each tooth receiving one. We then take detail impressions and images with digital technology. In a dental lab, we use the images and measurements we took to design and craft the finished product, a thin restoration made from porcelain. With proper care and attention, these can stay bright for years to come. We suggest you continue to brush and floss, and make time to see us every six months for checkup and cleaning visit too. These actions also protect your natural teeth too!
Placing Them on Your Smile
You will return to the office so we can check the fit and if necessary, make any last-minute adjustments. We then place the porcelain veneers with a powerful bonding agent, which secures them for decades to come, possibly even a lifetime. The porcelain we use is durable and absorb daily bite forces. The material also contains stain-resistant properties and can be shaded to blend with your smile. We may even whiten your teeth beforehand so they match your brightest possible smile.
The Cosmetic Possibilities
Once your veneers are in place, they can help lengthen worn down teeth and provide repair for chips or cracks. We could also reshape malformed or misshapen teeth, and even close embarrassing gaps or black triangle spaces between the teeth. If you have permanent teeth stains, the kind too severe to be addressed with whitening, we could mask them instantly. If you have minor misalignment, we could correct the appearance of your alignment, providing you an instant alternative to braces or aligners. If you have any questions about how we transform smiles in two visits with our cosmetic restorations, then contact our team today. We would love to schedule a cosmetic consultation and see if these are right for your smile!
TALK TO YOUR HOUSTON, TX DENTIST ABOUT PORCELAIN VENEERS!
Our team is ready to help improve the beauty of your smile in only two visits with our custom and durable cosmetic restorations. To find out more about our approach to cosmetic dentistry, from professional teeth whitening to custom restorations, then please contact your Houston, TX, dentist, Dr. Vlachakis, by calling 281-974-4494.