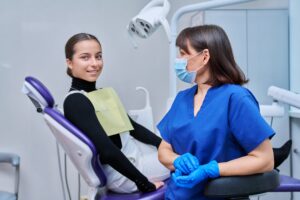 When you think about the importance of preventive dentistry, you should think about more than just what you can do to prevent cavities. You also need to think about how your oral hygiene routine protects you against gum disease, a condition that can have more impact on you than you realize. When your periodontal health is not being properly managed, you can have a tougher time avoiding tooth loss later in life, and you can face risks for complications that concern your general health as well as your smile. Our Houston, TX dentist's office can help you protect your gums. Routine preventive visits do this by providing regular reviews and cleanings that protect against tartar buildup. When necessary, we can offer additional support in the form of ultrasonic scaling.
How Do Regular Dental Checkups Affect Your Periodontal Health?
Your regular dental exams are important because they help you fully manage your oral health. In addition to helping you avoid difficulties with cavities, they will help you stay informed about the health of your gums and oral structures, and they even provide feedback about your jaw health and movement. One important aspect of these visits is that they provide updates about your gums. Early warnings about gingivitis can lead to treatment in the form of ultrasonic scaling, a service that will remove bacteria from teeth roots and help you maintain your well-being.
Affected By Gingivitis? We Can Provide An Ultrasonic Scaling
While gingivitis is a concern, it is one that can be effectively managed when it is identified. If we find during a review that you have a problem with this condition, we can provide ultrasonic scaling to remove the bacteria that have caused it. The ultrasonic scaling tool makes this service more comfortable. In addition to removing bacteria, we will polish the roots so that new microbes will have more difficulty gathering on these surfaces.
Protecting Your Gums Between Appointments
When you practice the right oral hygiene routine, you minimize your risks for future gum disease troubles. Brushing is important for preventing periodontal problems, but you should also take care to protect your gums by flossing thoroughly. Once a day, make sure that you thoroughly clean the spaces between your teeth to protect yourself against infection.
Talk To Your Houston, TX Dentist About Preventive Dentistry And Your Gums
Through the right approach to preventive care, our practice can help you take on problems with your periodontal health. Timely intervention in the form of ultrasonic scaling can stop gingivitis before it progresses to a more serious form of gum disease, and regular exams and cleanings can help keep healthy periodontal tissues safe from future problems. If you would like to find out more about how we can help you, please contact your Houston, TX, dentist, Dr. Vlachakis, by calling 281-974-4494.