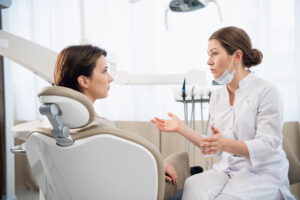 You should carefully and thoroughly clean your teeth each day. If you do so effectively, you control tartar buildup and prevent problems with dental decay and gum disease. As important as it is to do this, remember that you are not the only person who can protect your smile through preventive care. At our Houston, TX dentist's office, we can offer important support in the form of dental cleanings. During your regular exams, we provide cleanings that fight active tartar buildup and remove this material as well as plaque and food debris from your teeth. Because we can reach areas that are hard to care for, and because we can make sure tartar deposits are fully removed, we can stop you from experiencing problems like dental decay and gum disease.
The Role Dental Cleanings Play In Smile Care
While you should spend part of each day caring for your smile, remember that you are not the only person who can offer protection against oral bacteria. During every routine dental exam, your hygienist will care for your smile. This service can offer several benefits, including:
The removal of tartar deposits
Care for plaque and tartar in harder to reach areas
Work to clear away bacteria at the gumline (lowering your risk for gingivitis)
Feedback about the state of your current hygiene routine
Even if you have a hygiene routine that you feel confident in, these visits are beneficial. Letting your routine appointments lapse will raise your risk for tartar buildup and other issues!
What To Expect At Your Next Teeth Cleaning
During a teeth cleaning, your hygienist will carefully evaluate your smile. Any deposits of plaque and tartar are cleared away so that the bacteria they contain will not be able to hurt your teeth. We can lower your risk for gum disease in this way. If you already have signs of gingivitis, we can provide an ultrasonic scaling instead of a routine cleaning, which helps you by removing bacteria from your roots. Preventive cleanings and evaluations keep you informed about your dental well-being, and they lead to timely care when problems are present.
Maintaining Your Oral Hygiene At Home
In between your routine dental exams, make sure that your smile is cared for with daily brushing and flossing. Consistency matters, but it is also important that you spend time cleaning thoroughly so that even hard to reach areas are cared for. Make sure you replace your brush every three months, or at an earlier date if you notice that the bristles appear worn down. Take care to floss nightly, and remember to move the string vertically all the way down to your gumline to fight periodontal problems.
Talk To Your Houston, TX Dentist About Scheduling A Dental Cleaning!
Through regular dental cleanings, we help patients keep their teeth and gums healthy! To book your next appointment, contact your Houston, TX, dentist, Dr. Vlachakis, by calling 281-974-4494.