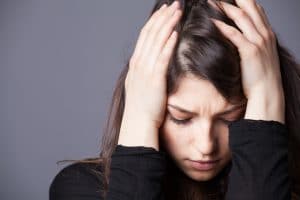 When you're upset about your headaches but you cannot seem to put your finger on the cause of your problem, it's important to realize it might not be what you think it is. Did you know that your bite can lead to a need for headache relief? If you're a little bit fuzzy on the details, we think taking a quick quiz might help shed light on a few possibilities that may be contributing to your headaches in a major way! If so, give us a call to schedule a visit soon.
Quiz Questions: True or False?
True or False: Your bite can lead to a requirement for headache relief if it is not as balanced as it could be.
True or False: One way the way your teeth are poorly balanced can affect your smile and lead to chronic headaches is if teeth are simply aligned improperly. Teeth may make contact where they shouldn't, you may not be able to close your mouth fully, and you may even be suffering from bruxism.
True or False: Dental work that isn't a precise fit can actually be part of your problem (even if teeth are aligned).
Quiz Answers
True. You need your teeth to fit together beautifully. Whether at rest or when in use, a balanced bite does not create any significant pressure, tapping, grinding, or a need to shift your smile awkwardly for optimal use. As a result, it does not cause pain or headaches. A poorly balanced bite, however, can lead to facial pain, neck pain, jaw pain, head pain, etc.
True. Misalignment can take a serious toll on your smile and may lead to headaches. We can treat it!
True. Fillings, crowns, and more that do not fit correctly can throw off your balance and result in the need for headache relief.
Address Bite Issues With Us For Headache Relief
Do you want to address the discomfort you're experiencing on a consistent basis? Let us know you require headache relief and we will be happy to see you! Schedule your visit with Healthy Smiles Family Dentistry today by calling (281) 974-4494. We serve patients from Houston, Memorial City, Bunker Hill, West Beltway, City Center, Hedwig Village, and all surrounding communities.