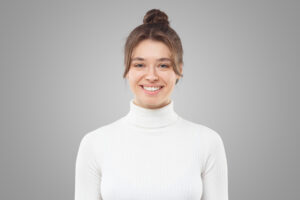 By recognizing the signs of nightly teeth grinding and clenching, you can see the need for treatment to protect your smile against harmful wear and tear. Not everyone who seeks help for persistent grinding—also referred to as bruxism—will receive help before their teeth are affected. If you are bothered by problems with enamel that appears worn down, damaged, or broken, our Houston, TX dentist can help. We can offer both cosmetic and restorative services as needed to improve your smile. With the right procedure, we can make sure that chips, cracks, misshapen teeth, and other concerns no longer affect how you look. We can also make sure you have the protection you need by providing a custom guard to keep your smile safe at night.
How Much Harm Has Bruxism Done To Your Smile?
People who seek treatment for bruxism can experience different degrees of damage by the time they seek treatment. If the early warning signs like jaw and facial discomfort, issues with dental sensitivity, and the onset of TMJ disorder are acknowledged in time, the problem can be addressed before any harm affects your smile. However, for many, trouble will become serious enough to include concerns about teeth that are misshapen, chipped, or even cracked before care is provided. As part of a larger plan to help you move past this problem, we can make sure you have access to appealing cosmetic dental treatment options.
Planning Treatment To Restore Worn, Flattened, And Misshapen Teeth
Work with porcelain veneers can effectively hide the damage that has been done by bruxism. These restorations only cover a limited area, but they are able to make significant improvements to how you look when they do so. Your veneers are made to fit the teeth you wish to have restored. During an initial dental appointment, measurements are taken, and preparatory work occurs to ensure that there is space for these thin shells. They are placed at the following visit; once in position, they will be permanently secured and capable of offering long-term benefits.
Need To Keep Your Smile Safe From Further Wear And Tear? A Custom Guard Can Help
To make sure you have no more issues with bruxism, we can supply a custom oral guard that will keep your teeth apart throughout the night. Its careful design can ensure that it fits properly and does not slip out of place. The separation that it creates will help you avoid difficulties with new harm to your enamel, and it can also provide relief against mounting pressure on your jaw joints and muscles.
Talk To Your Houston, TX Dentist About Treating Damage Done By Bruxism
For more information on the restoration of teeth hurt by bruxism, contact your Houston, TX, dentist, Dr. Vlachakis, by calling 281-974-4494.