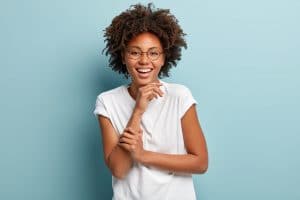 When a person falls behind on their oral health care needs, they can allow several problems to ultimately affect their smile before they seek out treatment. If you have several teeth in poor condition, it may become difficult for you to feel comfortable biting and chewing, and face a greater risk for developing TMJ problems that cause discomfort. You can also become self-conscious about the way your smile looks. At our Houston, TX dental practice, we are ready to provide restorative dental services to patients who are concerned about their dental health. We can make sure problem teeth are properly treated, and protected with lifelike fillings and crowns.
We Use Modern, Lifelike Restorations To Treat Problem Teeth
When working on a person's smile, our practice is committed to improving your oral health while also helping you maintain your appearance. For dental fillings, we rely on a biocompatible resin material that can easily blend in with your enamel, so your restoration is not noticeable. If you need a dental crown, we provide a variety of material types to suit different needs. If your tooth's appearance is a concern, porcelain and zirconia crowns are both good for imitating a person's natural tooth structure.
Performing An Evaluation Of Your Oral Health
When you visit our practice, we can perform a thorough evaluation to see if you need care for any smile issues. Once an evaluation is complete, we can discuss what a successful treatment might involve. For some cavities, dental fillings are enough to provide lasting protection. However, if decay is serious enough, you can require a dental crown for more support. Your evaluation can also allow us to determine if you might require restorations for teeth that have been injured, or suffered excess wear and tear.
A Healthier Smile Can Help You Deal With Problems Like TMJ Dysfunction
It is possible for your untreated dental health issues to affect your ability to bite and chew with comfort. If this is the case, you could develop a problem with your bite that leads to TMJ dysfunction. In a situation like this, restorative dental work can lead to meaningful improvements to your daily life. With that said, we are also prepared to give dedicated treatment to someone suffering from TMJ dysfunction, so the problem is fully resolved. We are also ready to offer dedicated support if you are struggling with headaches because of unresolved TMJ issues.
Talk To Healthy Smiles Family Dentistry About Improving Your Smile And Dental Function
At Healthy Smiles Family Dentistry, people in and around Houston, TX can look forward to dedicated oral health care! We are prepared to carefully evaluate your smile, identify problems, and offer modern restorative treatment. If you would like to learn more, call our dental office in Houston, TX, today at (281) 974-4494.