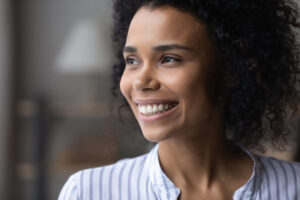 Through cosmetic dental work, it is possible for you to see many exciting changes made to your smile. While you may not be surprised to hear that treatments can take on different flaws, you may not realize just how much good one procedure can do. At our Houston, TX dentist's office, we can help transform the way you look by providing care with porcelain veneers! Through the use of these restorations, we can cover up discoloration, damages to your enamel, and other troubles. These restorations only take up a limited amount of space, which means it is possible for you to see the results you want while only making minimal changes to your enamel.
Planning A Cosmetic Dental Procedure
Because you have different options to choose from for cosmetic treatment, you may have some uncertainty when it comes to choosing a procedure. With porcelain veneers, you can take on many different concerns at one time. This means that problems with enamel damage or wear and tear, concerns about teeth spacing, embarrassing discoloration, and more can all be resolved in just two appointments. For people who feel that their goals for treatment are going to be difficult to reach, this approach can make exciting changes surprisingly easy to attain!
What Makes Veneers Effective At Providing Long-Term Improvements?
Veneers are able to offer lasting changes when they take on a person's smile flaws. They are able to offer this durability in spite of their slim design, as they are made with a remarkably strong porcelain material that can hold up against years of biting and chewing. They can also provide lasting benefits because they are carefully designed to ensure that they fit comfortably and stay in position over time.
Some Situations Can Call For Crowns Instead Of Veneers
We should note that for some patients, treatment for misshapen or damaged teeth can call for something that offers more functional support. With a dental crown, we can protect an unsightly tooth that also needs oral health support. Better bite strength and protection against harm will come from this kind of restoration. To determine if this is the right approach for you, we will closely evaluate teeth that you want restored before we proceed with your care.
Talk To Your Houston, TX Dentist About Treatment With Veneers
Through treatment with custom porcelain veneers, we can make exciting changes to your smile possible in the span of just two appointments. This service can take on different troubles with a person's appearance, and it can do so in a way that minimizes changes to their enamel. If you would like to learn more about this or another cosmetic service that we provide, contact your Houston, TX, dentist, Dr. Vlachakis, by calling 281-974-4494.