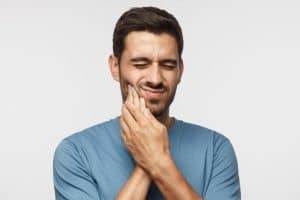 Ideally, your only trips to the dentist will be for routine dental checkups, where you can dependably hear good news about the state of your smile. Unfortunately, not everyone is able to enjoy these ideal circumstances! You may be concerned about your dental health because of a painful toothache, or because you are not able to bite and chew without some discomfort. You should let your Houston, TX dentist know that these issues are affecting you. We can identify what is wrong and recommend treatment to put a stop to the problem before it worsens. You may not realize it, but we can do more than just help with dental pain – thanks to TruDenta, we can also help you deal with headaches.
A Painful Toothache Can Be A Sign Of Infection – We Can Help
If your pain is centered on a single tooth, the problem may be with an infection. While infections can be the result of an untreated cavity, this can also happen if your tooth becomes physically injured. You should know that an infection is able to do increasing harm to a tooth over time. If you wait too long to address the matter, you can wind up losing the tooth! We can stop this from happening by performing a root canal procedure.
Are You Having A Hard Time Comfortably Biting And Chewing?
If you are having a difficult time biting and chewing, let us know! If your teeth are often sore or sensitive, particularly in the mornings, you may be grinding your teeth at night. If the problem is with your jaw, and causing you to experience stiff or difficult movement, TMJ disorder may be responsible. In some instances, people find that they are dealing with both problems at one time. We can work with you on a solution so that you are no longer dealing with persistent discomfort.
Did You Know? Your Dentist May Be Able To Address Your Headaches
With TruDenta technology, your dentist can provide a nonsurgical study to understand why you have issues with headaches. Headaches often result because of unresolved problems with a person's jaw movement. We can look for imbalances and begin work retraining your jaw and facial muscles in order to reduce the tension they are producing, which can help you put a stop to headaches.
Talk To Healthy Smiles Family Dentistry About Discomfort
At Healthy Smiles Family Dentistry in Houston, TX, patients who are struggling with discomfort can come to us for support! We can help you understand what the cause of your problem might be before providing an effective solution. If you have concerns about a particular problem, or if you just want to set up a routine dental exam, we are ready to help! For more information, call Healthy Smiles Family Dentistry today at (281) 974-4494.