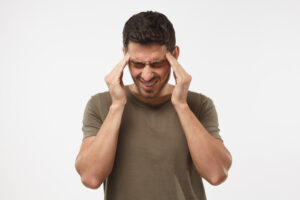 You have more headaches than you are used to, and you are starting to worry that it might be a symptom of something more serious. When this issue is accompanied by problems like teeth grinding and clenching, difficulties with uneven of stiff jaw movement, or discomfort in your face and neck, it can point to an issue with TMJ disorder. This is a treatable problem; in fact, when our Houston, TX dentist's office takes on issues with jaw alignment and bite function, we can provide improvements that lead to meaningful relief from different aches and pains. We rely on advanced imaging technology to provide important information that can lead to nonsurgical solutions for headaches and other troubles linked to TMJ difficulties.
Why Am I Experiencing More Headaches Lately?
More frequent headaches can mean less time and energy to devote to your favorite hobbies, a lack of focus at work, and a general lowering of your quality of life. The problem could be triggered by an issue with poor jaw alignment and movement. If it is, your dentist can let you know and recommend the appropriate treatment. Corrective work will be based on a patient's issues and needs. To determine what support is right for you, we can use TruDenta to gather important information and determine your care needs.
What An Evaluation Of Your Jaw Movement Can Reveal
By evaluating your bite movement and alignment with TruDenta, we can proceed to offer important nonsurgical treatment for headaches that are linked to issues with TMJ disorder. The evaluation will give us details on how your jaw moves whenever you bite and speak. Correcting any imbalances that we find will help relieve tension that causes different kinds of discomfort.
More Benefits To Addressing TMJ Problems
TMJ disorder causes more than just headaches. You can find it harder to move your jaw, experience discomfort in your face and neck, and start to grind and clench your teeth more frequently. The trigeminal nerve is responsible for jaw movement as well as sensations in your face, neck, and head, which is why TMJ problems can affect you in so many ways. When your issues include problems with teeth grinding, also known as bruxism, you need to worry about permanent dental damage as well as worsening discomfort in your face and jaw!
Talk To Your Houston, TX Dentist About Your Issues With Headaches
By letting our practice know that you are struggling with headaches, we can assess what we can do for you by providing treatment for poor jaw alignment and movement. If you have questions about how we can provide this care, or if there are any other matters that you wish to discuss with us, please contact your Houston, TX, dentist, Dr. Vlachakis, by calling 281-974-4494.