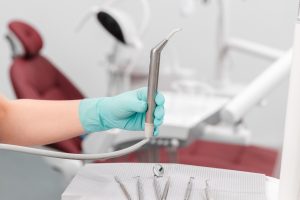 Going to the dentist for routine checkups and cleanings is essential for maintaining good oral health, but these visits aren't always events to which we look forward. They can be uncomfortable, especially if we haven't been sufficiently taking care of our teeth and, in particular, gums. This potential discomfort is precisely why we offer ultrasonic scaling. This technique helps combat and prevent plaque buildup and gingivitis while providing a much more comfortable experience. In today's blog, your Houston, TX, dentist discusses this process and how it can help improve the health of your mouth. 
What Is Gingivitis?
Gingivitis is a type of gum disease that occurs when plaque builds up on and around teeth. While plaque is a natural build-up of bacteria and food, an excessive amount can lead to the inflammation of gums, which can then cause bad breath, bleeding, and other more serious issues if left untreated. Plaque and tartar are reduced through teeth-brushing and flossing at home, but you still need to have your teeth cleaned and examined twice a year in order to mitigate their harmful effects. 
What Is Ultrasonic Scaling?
Treating the aforementioned gingivitis and the build-up of plaque involves scaling and root planing. This process sees your dentist or hygienist using tools to go underneath your gum to remove the harmful bacteria. Traditionally, they use those small, metal hook-shaped tools. If you cringed at the thought of them, you're not alone. This is precisely why ultrasonic scaling is a more comfortable option.  As the name suggests, the technique utilizes advanced ultrasonic technology that combats plaque and tartar with sound waves. It is ultimately less intrusive and more effective. 
What Are The Benefits? 
As noted above, ultrasonic scaling is more comfortable than traditional techniques. It is more maneuverable, nimble, and efficient, leading to a more pleasant experience for you. It can also potentially reverse gingivitis and its associated detriments. In cases in which gum disease cannot be reversed, this process can help manage and minimize its severity. Finally, ultrasonic scaling can help shorten your recovery time after the procedure because it is much less traumatic to your gums. Overall, this technique does a better job cleaning your teeth and gums while doing so in a more pleasant way. Make sure to ask your dentist if they offer this procedure next time you go in for a checkup. 
Have More Questions About Ultrasonic Scaling?
If you are interested in this procedure and would like more information, please don't hesitate to contact your Houston, TX, dentist, Dr. Vlachakis, by calling 281-974-4494. You can also visit Healthy Smiles Family Dentistry at 820 Gessner Rd., Suite #1560 Houston, TX 77024. We look forward to hearing from you and providing you with the most comfortable experience possible.