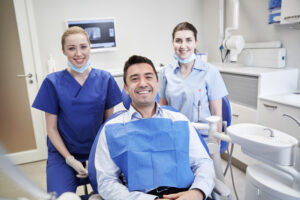 Hopefully, you will leave your next routine dental exam without having to arrange any additional work. The goal of regular appointments is to help lower your risk for problems, but our Houston, TX dentist's office is certainly ready to take care of you if something is wrong. Cavities are a common threat, one that can be dealt with in the office before there are complications. With a custom dental filling, we can support a tooth's health in the long term while only making minimal changes to your enamel. Because you have the option of receiving a filling that can imitate healthy tooth enamel, you can count on support without worrying that your smile will be negatively affected by cavity care.
What Do Fillings Do To Protect Teeth?
Dental fillings manage to keep teeth safe while only making minimal changes to them. They are put in place after the site of a cavity is treated. The treatment needs to remove infected tissues and clean the area to prevent any new issues from occurring. Unfortunately, the area affected by decay will have to be permanently protected, as your enamel will not grow back in time. A filling can occupy this vulnerable space and provide permanent stability and protection against both physical damage and a future infection.
We Provide Metal And Composite Fillings
Both metal and composite resin can be used to craft permanent dental fillings. Through the use of metal and metal amalgam restorations, we are able to provide more protection for back teeth that have to absorb more pressure whenever you bite and chew. A composite resin filling can closely imitate enamel. For front teeth that are easier for people to see, we can use this material to provide treatment without changing how you look.
We Can Also Use Crowns To Provide Lasting Support For Vulnerable Teeth
It is possible for a cavity to do more damage than a filling can treat. At this point, the way we have to approach your treatment will change. In response to this issue, we can provide a custom dental crown that covers your tooth. Crowns are also made from different materials. Metal and porcelain-fused-to-metal restorations can provide additional bite support, while porcelain and zirconia are effective at providing protection while preserving a person's appearance.
Talk To Your Houston, TX Dentist About Treatment With A Dental Filling
With a custom dental filling, we can see to it that your smile is properly restored! This approach to care is one of many that we offer. Remember that we are also here to provide preventive services that keep you safe from the kinds of issues that require in-office treatment. If you would like to find out more, contact your Houston, TX, dentist, Dr. Vlachakis, by calling 281-974-4494.