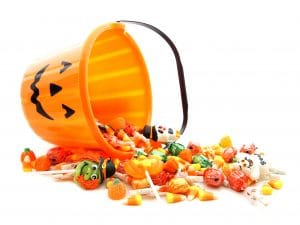 Halloween is a fun holiday, with a chance to wear cool costumes and of course, watch scary movies. But this holiday also encourages a lot of candy consumption, which could mean a higher risk of cavities in children and adults alike. In today's blog, your Houston, TX, dentist looks at what you and your family can do to stay safe and protect your smiles this Halloween.
The Causes of Cavities
What makes candy consumption a factor in the onset of cavities? When we eat them, this often leaves bits of sugar trapped between the teeth or sticking to them, especially if you eat sticky items that contain taffy or caramel. Bacteria will consume these particles, in the process coating the teeth in a layer of plaque buildup. As plaque hardens into tartar, it begins to cause demineralization and erode the enamel. The inner tissues become exposed to bacteria, allowing a cavity to form. People then experience toothaches and tooth sensitivity, and could be more likely to suffer from a dental infection.
Safer Halloween Options
First, if your neighborhood is in fact having trick or treating as normal, then consider handing out sugar-free options, such as trail mix, nuts, crayons, stickers, temporary tattoos, or Halloween-themed party favors. Be sure you wear your masks and maintain a good social distance too! For parents, consider letting your kids exchange their haul for a toy or other prizes. Limiting how much they eat to one to two pieces after a meal is good, as is washing it down with a glass of water.
Protecting Little Smiles
To really help protect little smiles, make sure your kids brush their teeth before going to bed and in the morning for two minutes. Children should use a small amount of fluoride toothpaste when they do. As soon as they have teeth that sit side-by-side, then flossing is essential before bed too. A checkup and cleaning visit every six months helps too, as we keep an eye on the smile and also perform a cleaning to remove all plaque and tartar. Removing plaque is a great way to stave off not only tooth decay, but teeth stains, bad breath, and even gingivitis. If you have any questions about treating tooth decay, or about safe habits to protect your smile, then contact our team today.
OUR HOUSTON, TX DENTIST'S OFFICE TALKS CAVITY PREVENTION
At our Houston, TX dentist's office, we want to help you and your family safeguard your smiles during the spookiest time of the year. With the right steps, you can enjoy your treats without putting your smile at an increased risk of cavities. Find out more about our approach to avoiding tooth decay by calling Healthy Smiles Family Dentistry at (281) 974-4494.