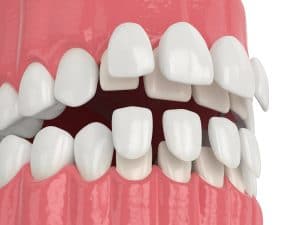 While some cosmetic treatments target specific portions of our smile, we have a treatment option that addresses multiple issues at once, improving smile beauty with custom porcelain veneers! In today's blog, find out how your Houston, TX, dentist crafts these custom restorations, and what you can do to keep them bright and strong for many years to come.
What Can Veneers Do?
A veneer is a very thin shell of porcelain that we place onto the front-facing side of your tooth. The porcelain material is durable, absorbs daily forces, and is often used in our crowns, inlays, and onlays. We also shade them to blend with the color of surrounding teeth. Once placed, they instantly reshape malformed teeth, lengthen teeth worn down by bruxism (teeth grinding), and even provide repair for minor chips and cracks. We use them to close embarrassing gaps between teeth, and the also mask the permanent teeth stains that may not respond to teeth whitening. Placement could also correct the appearance of minor misalignment, offering some an alternative to metal braces.
Creating Your Cosmetic Restoration
Each one is custom-made for your smile, ensuring a proper fit and a lifelike appearance. We start by removing a thin layer of outer enamel from the tooth, and then taking detailed impressions and measurements of the prepared tooth. We use the information gathered to create the restoration. There is no one-size-fits-all approach to improving smile beauty, and we want to make sure you feel proud and confident each time you smile!
Placement and Care
When you return for a second visit, we check the fit and make any necessary adjustments. Then we place it with a powerful bonding agent. The restoration has the potential to last for decades to come, but care is needed to protect the teeth we attached them to from tooth decay and gum disease, and to also keep the restoration bright. You should brush twice daily, floss every night, and see us every six months for a checkup and cleaning visit. These steps help reduce the severity of plaque and remove food particles, helping lower the risk of teeth stains, cavities, infections, gingivitis, and gum disease, keeping your smile whole, healthy, and beautiful. If you have any questions about restoring your smile's beauty with one or more porcelain veneers, or about preventive visits to keep your teeth strong and vibrant, then contact our team today.
Our Houston, TX Dentist's Office Provides Lifelike Cosmetic Treatments
At our Houston, TX dentist's office, we know the value of a stunning and vibrant smile, and offer a makeover with porcelain veneers. Find out more about our cosmetic services by calling Healthy Smiles Family Dentistry at (281) 974-4494.