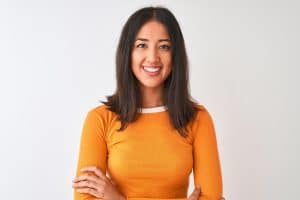 Are you growing frustrated with the sight of teeth that appear discolored, poorly aligned, or misshapen? Rather than continue to let your concerns hurt your confidence, consider asking your dentist about the benefits of a cosmetic procedure. Through the right cosmetic treatment, your Houston, TX dentist can deliver results that are truly exciting. Porcelain veneers offer patients a chance to hide many different flaws through a single treatment, which can make significant cosmetic improvements surprisingly attainable. These custom restorations help make teeth look brighter, healthier, and even more uniform so that your smile symmetry is improved.
Veneers Make Multiple Smile Improvements Possible In One Procedure
If you can point out multiple problems with your teeth, you may feel that your ideal smile might require multiple procedures. However, for many people porcelain veneers are enough to address all of their concerns. Veneers are able to cover up flaws with the shapes and sizes of teeth that seem unattractive or our of place. They can also help if you think your smile might be discolored, even if your issues with discoloration are difficult to address through a teeth whitening treatment. In some instances, veneers can even lead to improvements by hiding gaps and overlaps that occur due to poor alignment.
How Do Veneers Make Cosmetic Changes?
Veneers are thin, personalized shells of porcelain that cover the fronts of teeth. When a veneer is placed over a tooth, it can make it appear healthier, improve its shape, and hide discoloration. This treatment is possible with minimal changes to your tooth structure, as your restorations only cover the fronts of teeth. This is less involved than work involving dental crowns, as crowns cover all of your tooth above your gum line.
Some Damaged Or Misshapen Teeth May Require Support From A Dental Crown
While veneers provide a more conservative smile solution than crowns, there are times where crowns offer more benefits. If your teeth are worn down by persistent teeth grinding, or general overuse, you could benefit from the bite support that a crown provides. You can be glad to know that our practice is able to provide crowns that closely mimic your healthy tooth structure, so this work can lead to cosmetic benefits while restoring your dental health and bite.
Talk To Healthy Smiles Family Dentistry About Receiving Porcelain Veneers
At Healthy Smiles Family Dentistry in Houston, TX, patients who are interested in improving the way they look can talk with us about porcelain veneers. With veneers, it is possible to address several dental flaws at one time, making this a convenient and exciting solution for cosmetic woes! If you have questions about porcelain veneers, or if you are interested in any other cosmetic procedures, call Healthy Smiles Family Dentistry in Houston, TX at (281) 974-4494.