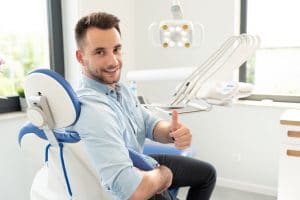 At some point, the idea of just reaching for a bottle of aspirin and hoping your headache fades quickly can seem insufficient. Why do you continue to have painful headaches, and what can you change in order to put a stop to them? You may not think of headaches as a matter for your dentist, but the dentist's office may be just the right place for you to go! At our Houston, TX dental practice, we can use TruDenta to examine you and determine if problems with your jaw joints or movement might be responsible for your issues. In many cases, making changes to the way you move when you bite, speak, and chew can relieve the tension that has been responsible for headaches. We can also talk with you about oral appliances that can reduce pressure caused by TMJ disorder.
TruDenta Can Provide Nonsurgical Relief From Frequent Headaches
TruDenta is a nonsurgical means of examining someone to find the cause of their headaches. With the information that we gather, we can determine how therapy to change your jaw movement and position can reduce pressure, alleviate tension, and help you feel lasting relief from discomfort. TruDenta technology makes it possible for us to gather a wealth of information that can be relevant to your headaches, which can lead to solutions that improve your quality of life.
Using Appliance Therapy To Help With TMJ Disorder And Bruxism
Custom oral appliances have proved beneficial for patients who struggle with TMJ disorder and bruxism. TMJ disorder is the result of issues that have affected your jaw movement and alignment. When problems with your jaw are recognized, an appliance can hold it in a way that brings relief by easing the tension of your joints and muscles.
Bruxism is a problem that sees a person frequently grind or clench their teeth, typically while they are sleeping. By wearing a custom appliance at night, you can keep your teeth apart and protect yourself from the potential physical trauma that this problem can cause.
Regular Exams Create Opportunities For Your Dentist To Address Different Concerns
Regular dental exams keep you informed about your oral health by checking on more than just cavities! When your dentist meets with you, they can check for issues like dental wear and tear, jaw pain, or awkward movements that might suggest that TMJ disorder and bruxism are affecting your quality of life. The sooner these issues are discovered, the sooner they can be addressed.
Talk To Your Houston, TX Dentist About Your Chronic Headaches
At our Houston, TX dentist's office, individuals who are affected by chronic headaches can meet with us to discuss the use of TruDenta to discover why they are experiencing discomfort. For more information, call Healthy Smiles Family Dentistry in Houston, TX at (281) 974-4494.