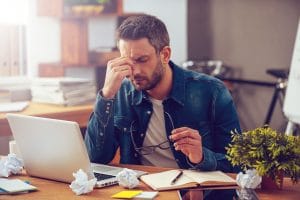 When headaches continue to be a problem in your daily life, you can be eager to determine what the problem is, and to find a lasting solution. At our Houston, TX dental office, we rely on modern technology to find ways to relieve problems with headaches. Headaches and dental troubles can be more common than you might expect – headaches are a frequent issue for people who have TMJ dysfunction, a term used to discuss problems with jaw joints and muscles. With TruDenta, we can closely examine the role that your bite movement, your jaw joints, and your facial muscles might be playing in your headache issues. Once we have this information, we can arrange a non-surgical treatment to relive you of your ongoing discomfort.
Using A Modern Approach For Headache Treatment
People who struggle with chronic headaches can have a difficult time making it through their daily routines, they can suffer from irritability, and they can find it hard to concentrate on tasks. In other words, problems with headaches can be more than just uncomfortable, as they can greatly intrude on your life. We rely on TruDenta treatment to help people with headache issues because it allows us to take a less invasive approach to understanding why you have been struggling, and what we can do to help.
Correcting TMJ Problems That Cause Headaches
TMJ problems can occur under many different circumstances. Some people have problems with their bite function because they have poorly aligned teeth, or because of dental issues that make biting and chewing uncomfortable. Issues with your jaw can also be linked to arthritis in the joints, or a past injury that affected your joint alignment. When we perform a study of your jaw, facial muscles, and oral structures, we can find ways to alleviate pressure and inflammation, and improve your bite function.
We Can Also Determine If You Need Help With Teeth Grinding
When addressing a patient's problems with TMJ dysfunction and chronic headaches, it can be important to talk about teeth grinding. When a person continues to grind their teeth, they can cause problems for their jaw joints and muscles and their teeth. If problems with grinding and clenching are not addressed, you could suffer dental damage serious enough to require restorative dental work. If your teeth show signs of excess wear and tear, or if you frequently wake up with dental pain or sensitivity, we can provide a custom guard to help you sleep at night without worrying about teeth grinding.
Talk To Healthy Smiles Family Dentistry About TruDenta!
At Healthy Smiles Family Dentistry, patients who are experiencing chronic headaches can count on TruDenta to help them recover! With the right analysis, we can find ways to correct your bite function and jaw alignment in order to successfully correct issues causing you discomfort! If you would like to find out more, call our dental office in Houston, TX, today at (281) 974-4494.