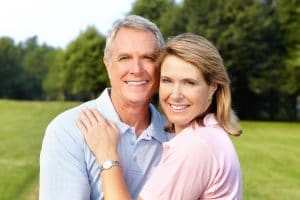 If you have suffered tooth loss, how much support can you really expect from a dental prosthetic? Are you going to have a hard time biting and chewing with this restoration in place, or will you find that it has an artificial quality that makes you self-conscious about your smile? At our Houston, TX dental practice, we can talk to you about the benefits of dental implants to support dental prostheses, and we can even restore your implant with a lifelike restoration! Having an implant-held restoration can give you back a smile that looks natural, and it can help you avoid problems after tooth loss that can lead to issues like TMJ dysfunction.
How Do I Qualify To Receive A Dental Implant?
Many people will be able to qualify for the placement and restoration of a dental implant after tooth loss. There is an initial consultation and evaluation needed, in order to confirm that you are a good candidate for this approach. This review is meant to ensure that your jawbone is healthy enough to receive an implant, and that there are no problems with your oral health, like gum disease, that have to be managed before you can move forward with treatment. If there is a problem that needs to be addressed, your dentist can talk to you about preliminary work to ensure that your prosthetic care is successful!
The Importance Of Receiving A Quality Dental Prosthetic
If you have even one missing tooth, you can find that your bite function changes. If this is not corrected, the building stress on your jaw can lead to TMJ dysfunction, which can make biting, chewing, and speaking painful. This problem can also lead to chronic headaches, and other uncomfortable problems. A stable, implant-held restoration can allow you to maintain a natural bite, and avoid this problem. It should be noted that because a dental implant acts like an artificial root, you can sustain the health and density of your jawbone, which can deteriorate due to a lack of stimulation from your absent tooth root.
We Can Also Restore Smiles With Partial And Full Dentures
We are ready to help you with more than just isolated tooth loss! We do offer quality partial and full dentures for patients who need to close larger smile gaps. These restorations are custom-made to fit comfortably, and they can restore your confidence in your appearance!
Talk To Healthy Smiles Family Dentistry About Restoring Your Dental Implant
At Healthy Smiles Family Dentistry, patients who want to do something about tooth loss can talk with us about dental implants! We can discuss what you should expect from an implant-held restoration, and work on plans to place your prosthetic on your implant. If you are ready to learn more,  call our dental office in Houston, TX, today at (281) 974-4494.