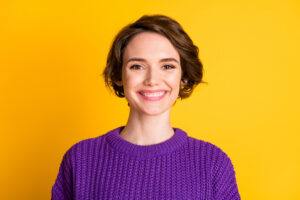 It can be exciting to start talking about a smile makeover with your dentist, but it can also be intimidating. When you think about all of the changes that could be needed to restore your confidence in how you look, you may feel uneasy about even starting the process of making them! Fortunately, with the right guidance and the right services, it can be easier than you realize to improve your appearance. Our Houston, TX dental practice is happy to work with you on planning out a smile makeover. Whether yours focuses exclusively on cosmetic procedures or also includes restorative dental work, we can help you feel comfortable with the different steps involved in bringing you to your ideal appearance!
What Are You Hoping To Change About Your Smile?
Whether you have one change to your smile you want to make or several, you may worry about how much time and effort a smile makeover will involve. Fortunately, there are ways to make significant changes in a surprisingly short time. For example, we can take on discoloration, dental damage, spacing issues, and problems with tooth shape and size just by placing porcelain veneers on teeth. As a result, you can see many improvements in a shorter span of time. We can provide an initial evaluation to determine if this is the right approach for your proposed makeover, or if we should look at other services that can help you.
Planning Your Smile Makeover
Your smile makeover will be based around both your goals for improvement and the current concerns we have about the health and appearance of your teeth. Cosmetic dentistry is focused on correcting problems with the way you look through beneficial changes to the color, shape, size, and alignment of teeth. Sometimes, work that we recommend will take on more than just these matters, as you may need to protect certain flawed teeth with lifelike dental crowns in order to improve your oral health and the way you look.
Taking On Issues Like Tooth Loss As Part Of A Plan To Improve How You Look
Restorative dental work, including more advanced services to replace missing teeth, can be a part of your smile makeover plan. Through treatment options like implant dentistry, we can provide long-term benefits for your appearance and oral health. Remember that the sooner you take on problems that affect your oral health, the less impact they can ultimately have on your health as well as your appearance.
Talk To Your Houston, TX Dentist's Office About A Smile Makeover Plan!
A smile makeover plan built around your oral health and appearance concerns can lead to fantastic changes! If you would like to find out more, contact your Houston, TX, dentist, Dr. Vlachakis, by calling 281-974-4494.