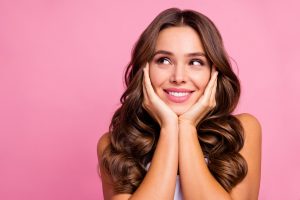 We've talked about how teeth whitening or porcelain veneers address specific issues with your smile. But what if you have multiple esthetic issues? To completely transform your smile, addressing smile beauty, as well as health and function, we may suggest a smile makeover. In today's blog, your Houston, TX, dentist will discuss how we complete a smile makeover.
Your Cosmetic Consultation
The process starts with a consultation. We want to take a close look at your smile with digital imaging technology, so we can properly assess the cause and extent of your cosmetic issues. We also want to talk to you about your smile goals, and what you help to see for your smile. From there, we create a treatment plan that combines multiple cosmetic and restorative treatmrtns to address these concerns, rebuilding your smile and improving esthetics in as little as one to two visits in some cases!
Cosmetic Treatments
For stained teeth, we have an in-office treatment that addresses discoloration in only one to two hours, combing a special light and bleaching gel to break up stains. For more severe discoloration, we could prescribe a set of plastic trays and powerful bleaching gel to remove discoloration from home, all while preventing tooth sensitivity. For damaged or permanently stained teeth, we could use the same composite resin employed in our fillings to repair the smile. We could contour teeth, gently sanding and buffing them to remove jagged edges, sharp points, or pits and grooves. We also have porcelain veneers. These thin restorations cover the front and sides of each tooth, instantly changing the shape and color!
Restorations and Tooth Replacement
We could also use composite resin to treat cavities with a lifelike repair, and for more severe cases of damage or decay, we could place a custom-made crown, which we craft from lifelike ceramic. If you have missing teeth, then we can craft and attach custom prosthetics, such as bridges and dentures, all created with natural looking and durable materials. We could even replace missing teeth with dental implant, which have the potential to last a lifetime and help preserve your facial structure too. If you have any questions about how we complete a smile makeover, or if you would like to see if your smile benefits from one, then contact our team to learn more. We want to help you obtain a smile that you cannot wait to show off to the world!
TALK TO YOUR HOUSTON, TX DENTIST ABOUT SMILE MAKEOVERS
Even if you have substantial cosmetic issues with your smile, we can help! To find out more about how we transform the beauty of your smile, often in only one visit, then please contact your Houston, TX, dentist, Dr. Vlachakis, by calling 281-974-4494.