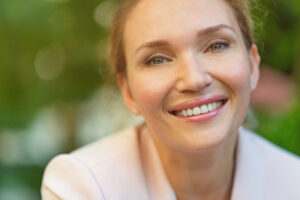 Many people have some interest in cosmetic dental work. For some, the goal will be to make teeth whiter. Of course, if this is your goal, what stops you from simply picking up a whitening kit from a nearby grocery store or pharmacy? If you have already attempted this approach, you can speak to how limited it can be in producing results. Fortunately, you do have access to more effective treatment options if you want to fight deeper and tougher stains that are hurting the way you look. Our Houston, TX dentist's office is prepared to offer both in-office teeth whitening and a take-home whitening kit. Each approach gives you access to whitening agents that are strong enough to make impressive changes happen.
Are You Worried Over The Color Of Your Smile?
It can be hard not to worry about the color of your smile. After all, many foods and drinks that we enjoy frequently, even daily, can leave behind particles that stain our enamel. You do have options when it comes to taking care of these stains. While you can try to fight them on your own, you can have limited success with store bought treatments. Simply put, they can lack the kind of potency needed to reach tougher stains. However, when you bring up your treatment goals with your dentist, you can see more improvements and enjoy a bigger confidence boost!
Planning Your Professional Whitening Treatment
You can plan to either take home a professional teeth whitening kit and use it at your convenience or come in for a single office appointment. In-office teeth whitening treatments fight tough stains in less time than you might think possible because they use advanced bleaching gels that we can stimulate to safely work faster. If you prefer to take matters on yourself, you can take home a teeth whitening kit that makes daily applications easier by including custom trays. This approach also relies on stronger bleaching agents, something that can help you enjoy the kinds of improvements that can feel out of reach with store bought alternatives.
Dealing With Discoloration Caused By Internal Problems
It is sometimes necessary to take care of discoloration by looking for ways to hide internal blemishes. In these cases, we can discuss options like porcelain veneers. With this approach, we can also cover up concerns about teeth that are misshapen, damaged, or otherwise flawed.
Talk To Your Houston, TX Dentist About Making Your Smile Whiter
Through treatment to whiten your teeth, you can take on an embarrassing smile flaw that has made you look older, less healthy, and less attractive. Healthy Smiles Family Dentistry is ready to help you understand the benefits of cosmetic services, just as we can help you take on possible difficulties with your oral health! If you would like to learn more about the support we provide, contact your Houston, TX, dentist, Dr. Vlachakis, by calling 281-974-4494.