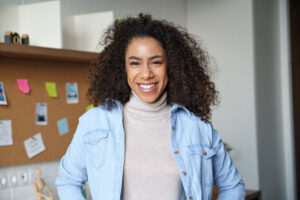 People who experience problems with teeth stains can feel no shortage of frustration over their cosmetic impact. Unfortunately, they can prove to be tough to treat as well as embarrassing. Even after an effort at removal with a store bought whitening treatment, you can feel dissatisfied by the color of your smile. Does this mean that you simply have to live with this problem? At our Houston, TX dental practice, we can provide a more effective approach than one you can find at your grocery store or pharmacy. We actually provide both in-office treatment and the option of taking home an advanced whitening treatment kit, as well as cosmetic services that are able to take on intrinsic discoloration.
How Do You Currently Feel About Your Smile Color?
The growing concern you feel over the color of your smile can be difficult to ignore, and it can be hard to keep those negative feelings from impacting how you feel about your overall appearance. Because there are so many products we enjoy that leave behind particles that stain enamel, it can be tough to completely avoid them. For those who would like to find an effective solution, a trip to the grocery store or nearby pharmacy can result in disappointment, as the products on store shelves can offer less potency. For more meaningful changes, you can talk to your dentist about professional teeth whitening treatment.
Fighting Stubborn Teeth Stains
Our practice can provide both in-office teeth whitening treatment and a kit that is prepared for you to use in the comfort of your home. If you are ready to see your results as soon as you can, in-office treatment can be the right approach for you. It can lead to positive changes after just one appointment thanks to the way we can safely stimulate the effects of the bleaching gel. If you want to enjoy treatment from the comfort of your home, we can recommend that you use a kit personalized for you use at our practice.
Using Another Cosmetic Procedure To Change Your Smile
Through our different cosmetic dental services, we can make welcome changes to your appearance even when you need to deal with internal problems that change your smile color. These internal blemishes can be hidden when porcelain veneers are put in place on teeth. In addition to fixing problems with discoloration, these restorations can hide damage, trouble with misshapen teeth, and other concerns.
Talk To Your Houston, TX Dentist About Treating Discolored Teeth
It can be embarrassing to live with dental discoloration. Fortunately, this is something you can take on when you talk to your dentist about cosmetic treatment! At our practice, people in and around the Houston area can learn about the advantages of different treatment options that can help with both enamel stains and internal discoloration. If you would like to find out more about how we can take care of you, contact your Houston, TX, dentist, Dr. Vlachakis, by calling 281-974-4494.