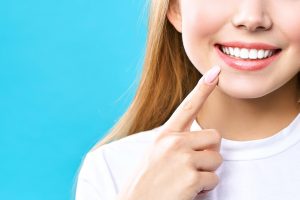 It is extremely common to feel self-conscious about the color of your teeth. We all want a perfectly white smile, but sometimes those stubborn stains just won't go away. Lots of products — from toothpaste to rinses — tote their teeth whitening capabilities, but they rarely provide meaningful results. Luckily, professional treatment is an option for you. In today's blog, your Houston, TX, dentist discusses at-home and in-office teeth whitening options that will help you regain confidence in your smile.
In-Office Option
If your stains are not too severe, and you would like your smile brightened quickly, our in-office procedure is a good option. When you come in, we apply a safe yet strong bleaching agent to your teeth. We then stimulate the gel with a special light, which breaks up and removes the stubborn discoloration that's been bothering you. The whole process takes about two hours. This option is great if you need your smile whitened a shade or two quickly. For more serious stains, at-home treatment is probably the way to go. 
The At-Home Option
If you have more time and deeper stains, we suggest professional at-home treatment. We create custom trays that will comfortably fit over your teeth, and we provide you with a professional cleaning gel that you fill the trays with. Over the course of the next two weeks, you wear the trays for an hour or two each day. Depending on the severity of the stains, your dentist may recommend altering the amount of time you spend wearing the appliance. By the time you are done, your teeth will be noticeably whiter, and the stains will be gone. Your teeth might feel extra sensitive after the procedure, but this is normal. If it persists, and you are uncomfortable, please feel free to reach out to us
How Do I Keep My Teeth Bright?
Once you have had professional teeth whitening, whether at home or in the office, it is important that you maintain good oral hygiene and come in regularly for checkups and cleanings. Brush your teeth twice a day and floss each night. Try to avoid foods and drinks that can stain your teeth — like wine, coffee, and tea. Tobacco also causes discoloration. You can still indulge in sweet treats and a drink from time to time, but just be aware of what they can do to your teeth. 
Have Questions About Teeth Whitening?
If you'd like to learn more about the ways we can help brighten your teeth, you can contact your Houston, TX, dentist, Dr. Vlachakis, by calling 281-974-4494. You can also visit Healthy Smiles Family Dentistry at 820 Gessner Rd., Suite #1560 Houston, TX 77024. We look forward to hearing from you soon.