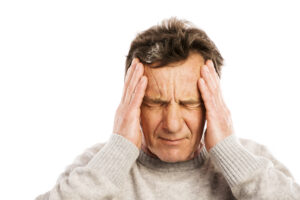 What is causing you to have more headaches than normal? It could be a problem that is linked to your oral health. When poor jaw alignment and movement result in ongoing problems with TMJ disorder, you can have difficulties with headaches and other problems that impact your quality of life. Fortunately, treatment is available to manage this condition. Our Houston, TX dentist's office has experience managing jaw problems that trigger headaches. We also have advanced technology that can help us carefully evaluate you and find nonsurgical solutions to this problem! Remember that the sooner you have an evaluation and discover the source of your difficulties, the sooner you can resolve them.
Are You Experiencing Headaches Because Of A Problem With Your Jaw?
Problems with your jaw can trigger headaches and other kinds of discomfort. If you are unsure whether the issues with your jaw might be linked to your headaches, look out for other signs of TMJ disorder that might affect you. They can include:
A tendency for your jaw to feel stiff or sore when you try to bite, chew, or speak
More frequent problems with teeth grinding, including at times when you are asleep
Facial discomfort
Recurring problems with neck and shoulder discomfort
Awkward or uneven jaw movements
The sooner you recognize that you should talk to a dentist about this issue, the sooner you can find that treatment is available to help you avoid further headache difficulties.
Using TruDenta To Find The Right Solution For Your Headaches
TruDenta technology makes it possible for us to treat problems with headaches that are being triggered by issues with your jaw alignment and movement. We can evaluate you to see what issues with unbalanced movement you have, which can tell us what kind of corrective work will benefit you. TruDenta provides advanced information that can help pinpoint problems and look for solutions, which means we can find less invasive, non-surgical paths to correcting your troubles.
When Tooth Problems Affect Your Dental Function
In some cases, patients can require restorative dental work to improve their bite function. If this is the case for you, we can look at teeth that need to be restored and find solutions. With lifelike dental crowns, we can provide protection for teeth in vulnerable states, and we can do so without changing your appearance, as these restorations can be made to match your healthy enamel.
Talk To Your Houston, TX Dentist About Treatment Options To Resolve Headache Troubles
Through the right approach to care, we can help you put problems with headaches and related jaw troubles behind you! If you would like to find out more about how this and other services can benefit you, contact your Houston, TX, dentist, Dr. Vlachakis, by calling 281-974-4494.