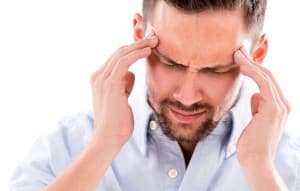 If you have been experiencing regular headaches that disrupt your life, you may be interested in seeking relief. It probably seems logical to visit a doctor to address your headache concerns. But what about visiting your dentist? Here's why you should visit the dentist for headaches: The underlying cause of your chronic headaches could be related to jaw muscle and joint tension caused by TMJ disorder or bruxism. Your headaches and migraines could be a symptom of these dental disorders. Seek treatment with your dentist and your chronic headaches could be a thing of the past.
Possible Causes of Headaches
What causes headaches? Headaches could be a symptom of dental issues. Dental conditions, such as dental imbalance, teeth grinding, or TMJ disorder, can trigger the neurological and biochemical reactions that cause headaches. Jaw muscle tension can also cause face, neck, shoulder and head pain. If you address your dental conditions, your chronic headaches and migraines can subside. Common dental-related causes of chronic headaches include bruxism, TMJ disorder, bite misalignment, damaged dental prosthetics, and missing teeth.
Dental Treatments for Headaches
ABOUT YOUR HOUSTON

, TX,

DENTIST

:
At Healthy Smiles Family Dentistry in Houston, TX, Dr. Amy Vlachakis (pronounced Vla-ha-kiss) and her dedicated staff strive to make everyone feel like family, while providing top-notch general, cosmetic, and family dentistry services to patients of all ages. To learn more, or to schedule a consultation, call our dental office in Houston, TX, today at (281) 974-4494. Located in Memorial City Plaza, we proudly welcome patients throughout Houston, Memorial City, Bunker Hill, West Beltway, City Center, Hedwig Village, and all surrounding communities.