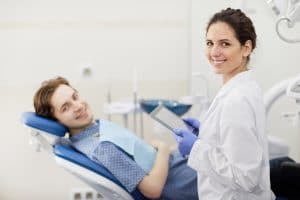 If you are unsure of what to do after injuring your tooth, it can be easy to fall into a state of panic. How can you keep your injured tooth safe until it is treated? What can you do about discomfort? When can you arrange for an evaluation from your Houston, TX dentist? You can be happy to know that while you can be unsure of what to respond, our dental practice is ready to help you during a dental emergency. We can bring you in for care on short notice, and we can work to address your discomfort. Because we use modern dental restorations, you can count on your treatment to restore your smile as well as your injured tooth!
Dental Damage Can Be Upsetting And Painful
While it is hard to think of a "pleasant" injury, few forms of harm can be upset someone like a dental injury. Our teeth are remarkably strong, but there is little they can do to heal if they experience trauma. What this means is that in addition to having a painful problem that requires treatment, you can worry that your smile as you know it has been changed. Knowing that you have access to urgent oral health care can make a stressful experience easier to manage.
Setting Up A Dental Visit For Urgent Care
If you think you need to arrange urgent dental care, please contact our practice as soon as possible. By doing so, you can ensure that your problem is addressed with minimal delay. After informing us about what happened, you can come to us to have work done to restore your smile. Follow the suggestions below to make the trip more comfortable:
If you are in pain, hold ice or a cold compress against the affected area, and use an over the counter pain reliever
Be careful not to put pressure on a tooth that has been physically damaged
If your tooth is knocked out, do not handle it by its roots; only pick it up by its crown
Carefully rinse if your tooth is broken, and use clean gauze to manage any bleeding
What Can You Do If Your Tooth Is Lost?
If your tooth is lost, we can work to save it when you come in for restorative dental work. If the tooth is properly handled and in sufficient shape, we may be able to safely put it back in place. If this is not something that we can do, we can make plans to restore your smile with a dental prosthetic. Thanks to dental implants, it is possible to hold a permanent restoration in place without affecting other teeth.
Your Houston, TX Dentist Can Help You During A Dental Emergency
Your Houston, TX dentist's office is prepared to help you in a situation when you need urgent treatment. To find out more about the urgent care that we provide, call Healthy Smiles Family Dentistry in Houston, TX at (281) 974-4494.