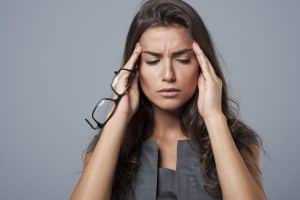 Like many patients we see, you are getting headaches. Not just a headache once a month or when you happen to feel extremely stressed out. Nope! You are getting headaches all the time and you are doing everything you can to find headache relief. What you want, in addition to relief, of course, is answers! Why is this happening to you? What should you do next to alleviate the discomfort? We know that this is a very challenging time for you, which is why we would like to quickly offer very helpful answers, so you can get back to life without pain.
#1: Why Am I Getting Headaches?
We can't tell you why you're getting headaches right now because we have not see you and examined you yet. We can, however, explain all the reasons your mouth and surrounding framework may be contributing to your headaches. When we fully evaluate you, we can then tell you the precise causes behind your pain and your need for headache relief. Schedule a visit!
#2: How Can You Help Me?
Once we know what's behind your need for headache relief (perhaps it's posture, TMJ disorder, bruxism, misalignment, etc.), then we can go ahead and talk about treatments. We will help you by identifying the things that are causing your pain and then treating all of them. Keep in mind that our approach is natural, holistic, and drug-free.
#3: Do I Need Additional Care?
We can also tell you if you require other care or additional care for your headache relief. Perhaps you need to make some lifestyle changes. Maybe it's also important for you to check in with your general practitioner. Come see us, so we can begin guiding you toward relief!
Our Headache Relief Will Include Answers To Your Questions
Remember that your journey toward headache relief with us will be a transparent one, during which we provide you with insight into what's happening, why, and how we may assist you. Schedule your visit with Healthy Smiles Family Dentistry today by calling Healthy Smiles Family Dentistry today at (281) 974-4494. We serve patients from Houston, Memorial City, Bunker Hill, West Beltway, City Center, Hedwig Village, and all surrounding communities.