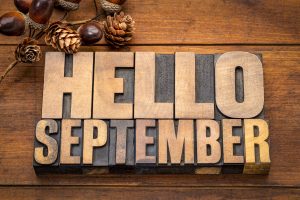 September is near. Once we enter this month, we'll be closing the door on summer and will find ourselves heading straight for autumn. What's this mean and what on earth does it have to do with your need for headache relief, you wonder? Of course, any time is a very good time to come in for care. However, our Houston, TX team knows that sometimes you need some sort of extra motivation to remember to put your headaches and treating them on the top of your priority list. So, need some help getting this going during the upcoming month? No problem. We've got ideas all ready for you to rely on!
#1: Say It Aloud!
Don't just think it. Take the time as September starts to think to yourself, "S for September, S for say it aloud!" Then, of course, say the words: "I need headache relief!" When you hear it, you just might be more likely to give us a call to set up a time to talk with us. Remember, spending time with us is not just a simple conversation. You're going to enjoy a thorough evaluation process, during which we will figure out what makes you unique and what's making your headaches so prominent in your life. Then, of course, we will offer treatment.
#2: Consider The Holidays
You've got all of September to come on in and talk with us about headache relief before you're entering the long string of months that are full of holidays and lots to do. October has Halloween, November has Thanksgiving, and so on and so forth. If stress tends to contribute to your headaches, why not take care of your discomfort right now, rather than waiting for a time of the year that's fun but also a figurative headache? By coming in to see our team soon, you avoid accidentally postponing treatment until well into the New Year!
#3: Don't Blame The Weather
If you find that you have headaches all year but somehow, you can always manage to blame the weather (headaches from heat, from cold, from wind, from humidity, from dryness), then the moment you find yourself faulting the change of seasons into autumn, take a moment to pause. Instead, call us to schedule your headache relief visit with our team, so you can really find the cause and treat it.
See Us In September For Your Headache Relief
Don't wait another month! Instead, come see us very soon to treat your headaches. Schedule your visit with Healthy Smiles Family Dentistry today by calling (281) 974-4494. We serve patients from Houston, Memorial City, Bunker Hill, West Beltway, City Center, Hedwig Village, and all surrounding communities.