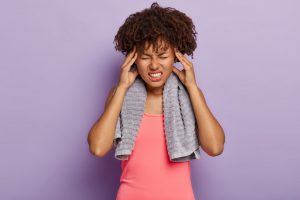 If you keep experiencing chronic headaches, you might want to consider the role your bite function is playing in the matter. It might seem strange to link headaches and jaw movement, but the reality is an unaddressed issue with your bite can tax your jaw joints and muscles. Over time, the stress that you are creating can lead to TMJ dysfunction, and start to impact your life in a number of unwelcome ways. In addition to your headaches, you can start to find that biting, chewing, and speaking are hard to do without discomfort. You can also experience stiff or limited jaw movement. Our Houston, TX dental office can determine what role your bite might play in your headaches, and determine what we can do to put an end to your troubles!
TMJ Dysfunction Can Disrupt Your Daily Life
Headaches can become a maddening obstacle in your daily life, especially if they seem to occur frequently. Headaches that are linked to TMJ dysfunction can be hard to avoid. This problem can also make it painful or difficult to speak, laugh, bite, or chew. If your problems extend to trouble with nightly teeth grinding, a problem known as bruxism, you will also have to worry about dental damage!
Taking Care Of Oral Health Problems That Can Cause TMJ Problems
Our practice can help you alleviate stress on your jaw by creating a custom oral appliance that you can wear during the night. These oral appliances can relax your jaw, keeping it in a position that relieves pressure on your joints and muscles. While this can be an effective solution on its own, there are cases where additional oral health care should be provided to make sure a matter is completely resolved. If you have bite problems because of poor dental health, we can perform the appropriate restorative dental work, and take care of vulnerable teeth with dental crowns. We can also let you know if poor dental alignment is affecting your bite.
We Use TruDenta Treatment To Fully Understand Your Headache Issues
While many people who have chronic headaches are feeling the effects of TMJ dysfunction, our goal is to make sure we know what the problem might be. TruDenta treatments are performed for patients who are struggling with ongoing headache issues – the goal will be to make the root of the problem clear. In addition to finding the cause, we can work with you to put a stop to your discomfort.
Talk To Healthy Smiles Family Dentistry For Information On TMJ Dysfunction And Headache Relief
Healthy Smiles Family Dentistry is ready to help patients who are struggling with chronic headaches! If you think you might have problems with TMJ dysfunction, or if you experience headaches on a regular basis, we are ready to help. To find our more about what we can do for you, call our dental office in Houston, TX, today at (281) 974-4494.