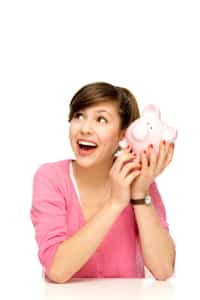 You may have heard the old adage: "An ounce of prevention is worth a pound of cure." When it comes to your oral health, this saying is doubly true. After all, the "ounce" of time and money you spend brushing, flossing, and rinsing every day pales in comparison to the "pounds" you'll spend on treating a serious oral health problem. Luckily, the American Dental Association asserts that following these two basic steps will help you prevent oral health problems and save money on expensive dental procedures.
Step 1: Practice Preventive Dental Care at Home
Brushing and flossing to keep your teeth and gums clean and free from plaque buildup are the easiest and most effective ways to maintain a healthy smile on the cheap. And you don't have to believe the marketing: while fancy sonic toothbrushes and water flossers are nice, a handheld, an ADA-approved toothpaste, and waxed dental floss can do the job just as well (and cost less than $10 for all three items. According to the experts, the key is in using the proper technique when brushing and flossing. Follow these basic guidelines to brush and floss like a pro:
Brush after every meal or at least two times every day. Be sure to brush for a full two minutes to adequately clean all the teeth.
Floss every evening for about two minutes. If you have problems with dexterity or just don't like having your fingers in your mouth, try using handheld flosser picks.
Step 2: See Your Dentist Regularly
The best complement to regular at-home dental care is regular checkups and cleanings with your family dentist. Regular cleanings with a dental hygienist remove plaque and tartar buildup and leave your teeth and gums feeling smooth, clean, and vibrant. Furthermore, your dentist will keep an eye out for developing problems like gum disease, tooth decay, and oral cancer. Many serious oral health issues do not have obvious symptoms in their early stages, so you need the help of a trained professional to identify symptoms at the earliest possible point. Furthermore,
It's important to note that although the ADA recommends getting your teeth checked and cleaned every six months, that might be out of the question for people on a very tight budget. Still, even if you can only manage seeing the dentist once a year, that's still far more preferable than skipping a checkup and cleaning altogether.
ABOUT YOUR HOUSTON DENTIST:
At Healthy Smiles Family Dentistry in Houston, TX, Dr. Amy Vlachakis (pronounced Vla-ha-kiss) and her dedicated staff strive to make everyone feel like family, while providing top-notch general, cosmetic, and family dentistry services to patients of all ages. To learn more, or to schedule a consultation, call our Houston dentist office today at (281) 974-4494. Located in Memorial City Plaza, we proudly serve patients throughout Houston, Memorial City, Bunker Hill, West Beltway, City Center, Hedwig Village, and all surrounding communities.