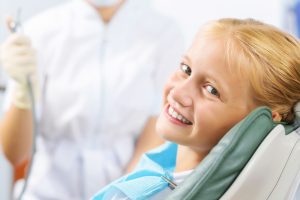 Regularly scheduled visits to the dentist are an important part of maintaining a healthy mouth. You and your family should strive to go in for exams and cleanings every six months. If you have kids, there's no better time to schedule a visit than right before the school year starts. This is especially true now given the uncertainty of COVID and how it will affect classroom time. Taking your child in for a back-to-school visit now is important, so they will not have to miss any school — especially if in-class learning opportunities are cut short due to the pandemic. In today's blog, your Houston, TX, dentist discusses the importance of regularly scheduled exams and cleanings, and how they are especially crucial for children.
What Services To Expect
When you bring in your child for a visit before school, they will undergo a professional cleaning and then the dentist will thoroughly examine their mouth. If it has been a while since their last visit, the dentist may suggest x-raying their mouth to make sure everything under the surface looks healthy. Your dentist might also suggest applying a sealant to your kid's molars. Sealants are a thin coating made from biocompatible dental materials that protect chewing surfaces from cavities. While they can't replace brushing and flossing, they can protect your child's teeth very effectively.
Cleanings And Exams Are Essential
While teaching good brushing habits at home is incredibly important, you still need to bring your family in for professional cleanings and checkups. Cleanings are an opportunity for a hygienist to remove built-up plaque from teeth. If plaque builds up, it can calcify and turn to tartar, which leads to tooth decay and gum disease — like gingivitis. While brushing can help, cleanings with professional tools and knowledge are still crucial. Your dentist or hygienist can also recommend good brushing techniques to your children. 
Exams are just as important as cleanings because it allows the dentist to inspect your child's teeth and gums. Then, they can suggest any possible treatments and services that would benefit their smile. During an exam, the dentist will look for cavities and signs of gum disease. If any are found, they may recommend fillings or other treatments. They may also utilize the latest technology and techniques to screen for ulcers, lesions, and other abnormalities.
Benefits Of Dental X-Rays
Your child's dentist may also suggest using digital x-rays to better examine their mouths. Digital x-rays provide clearer images than traditional ones, and they also allow for 90% less radiation exposure. Overall, they are one of the best preventive tools that dentists have, and they can catch myriad issues before they might become problematic. 
Contact Us To Schedule A Back To School Dental Visit
Taking care of your child's mouth is essential, and we are proud to offer dental services to the entire family. To schedule an appointment, contact your Houston, TX, dentist, Dr. Vlachakis, by calling 281-974-4494. You can also visit Healthy Smiles Family Dentistry at 820 Gessner Rd., Suite #1560 Houston, TX 77024. We look forward to hearing from you soon.