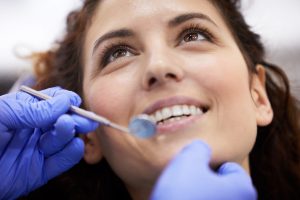 We've been discussing how to care for your smile and avoid cavities from home. But you also need to see our team for routine checkups and cleanings to keep teeth and gums strong and disease-free. In today's blog, your Houston, TX, dentist will discuss the value of a checkup and an oral cancer screening!
Your Dental Checkup
At a checkup, we will carefully look at your teeth and gums visually, and with the use of digital x-rays and intraoral images. The resulting pictures will be in great detail, showing us the surfaces of your teeth and gums, as well as the roots, jawbone tissue, and oral structures. These images mean we can better diagnose the presence of common issues in the earliest possible stages, so we offer treatment before you experience discomfort or risk major oral health complications.
Our team will look for the earliest signs of tooth decay, often identifying the issue in the demineralization stage. We also watch for signs of gingivitis and gum disease, as well as dental infection. Signs of wear and friction could let us know if you need treatment for TMJ disorder and bruxism as well. If you encounter sore, bleeding gums or toothaches outside of your visits, always let us know!
Screening for Oral Cancer
Did you know that of the estimated 53,000 people who will be diagnosed with oral cancer this year, only half will be still be here in five years? The main cause of the high mortality rate is the fact that the disease is rarely identified in the early stages. But with an annual screening, we can watch for signs of cancerous and precancerous areas, so you can obtain a biopsy and if needed, undergo treatment. Addressing the issue in the early stages increases the chances of a full recovery. You should also let us know if you notice sores or lesions that don't heal after two weeks, a prolonged sore throat or changes in your voice, sudden weight loss, or rough patches or areas of red and white splotches in your mouth. These could be potential warning signs!
How Often Should You See Us?
We suggest a checkup every six months for people ages two and older. However, if you have high risk factors for gum disease, or currently suffer from gum disease or periodontist, we could suggest an exam and cleanings every three to four months. If you have any questions, then please contact our team today to learn more.
Ready to Schedule Your Next Checkup?
Our team wants to help you avoid oral health problems with routine exams and screenings. For more information on how we help you and your family maintain optimal oral health, then contact Healthy Smiles Family Dentistry in Houston, TX today by calling 281-974-4494.