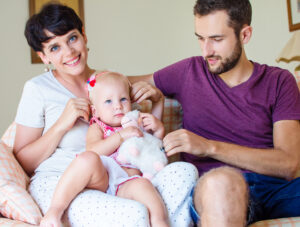 As a parent, you know how difficult it can be to instill sold dental health values in your children. It can be difficult to say the least to have your little ones excited about the prospect of their twice-daily oral hygiene regimen. Dental health habits start early, however, so do not wait to start developing a positive routine. Start their care before a single tooth has begun to erupt for the most comprehensive care.
Throughout childhood and adolescence, routine examinations and cleanings every six months can help to identify and diagnose any concerns quickly. This approach helps to give your dentist a consistent view of the development of the mouth of your child. From their initial baby teeth through to their last set of molars, changes can happen quickly in young mouths. At Healthy Smiles Family Dentistry in Houston, we understand the advantages of preventive care in patients of all ages. Schedule your child's appointment alongside your own so that you can be a positive role model. In addition, this can help you stick to your own six month checkup timeline!
Children Have Quickly Developing Mouths
Changes can occur rapidly within a young smile. For this reason, it is important never to skip the checkups for your child. A short period of time can result in serious issues that could require time and money to correct. It is important to stick to a six month timeline at the latest for their trips to the office.
Reward their oral health successes with more consistent visits. A shorter period of time between appointments gives your qualified dental care professional more information on the health of their smile. It can also help them become more accustomed to the process.
Be Their Dental Hero And Give Them Confidence
While children require special care for their quickly developing bites, you also need to see the dentist for regular checkups. Schedule your visit at the same time as your child so that you two can come together. This can help you to be a guiding hand during the process. In addition, you can show your little one that the dentist is something to anticipate.
Keeping Your Family Healthier In Houston, TX
Schedule your appointment alongside your child so that you can show them that the dentist is not something to fear. Give them the confidence they need to be able to attend their own routine cleaning and examination through positive affirmation. Be a role model by taking care of your own regular smile maintenance. Call Healthy Smiles Family Dentistry in Houston, TX at (281)974-4494 today to learn more about how healthy habits start early. Take the reins in the dental future of your family with consistent visits to the office!