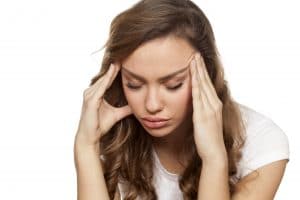 Many people may not realize they are clenching their jaw at night, but there symptoms that you can watch out for. People who are struggling with this problem, which is often referred to as bruxism, can awaken to sore teeth, and sensitivity in their face and jaw. Bruxism can also cause you to experience chronic headaches, and develop TMJ dysfunction. If you suspect you need help with a nighttime jaw clenching problem, reach out to your dentist. You can receive help that will protect your teeth and jaw joints, and take care to stop accompanying pain.
Addressing Bruxism And TMJ Disorder
Your dentist can assess your oral health needs when you bring up symptoms of bruxism or TMJ disorder. In some cases, patients are given a mouth guard that will protect their teeth while they sleep. This will help you avoid the damage that can result from teeth grinding, and keep your smile in good condition. In cases where bruxism and TMJ dysfunction are both causing problems, a splint can be provided, which will better align your jaw joints, and stop you from clenching.
Are You Giving Your Oral Health Enough Attention?
If you overlook symptoms of oral health troubles, your condition can worsen, and grow more complicated, before you ultimately respond. Issues like chronic headaches, jaw pain, and dental sensitivity should be taken seriously. The condition of your jaw will impact your sense of well-being, and affect your dental function. In addition to checking for problems like tooth decay and gum disease, you can talk with your dentist about pain, limited jaw movement, and other concerns connected to your oral health.
Talk To Healthy Smiles Family Dentistry About Addressing A Jaw Clenching Habit
At Healthy Smiles Family Dentistry, we offer advanced care for problems related to TMJ dysfunction, chronic headaches, and problems with jaw clenching. If you are struggling with worrying symptoms that may be affecting your oral health, and your quality of life, schedule an appointment with our office to learn what can be done. If you wish to schedule a consultation, call our dental office in Houston, TX, today at (281) 974-4494. Located in Memorial City Plaza, we are proud to welcome patients throughout Houston, Memorial City, Bunker Hill, West Beltway, City Center, Hedwig Village, and all surrounding communities.