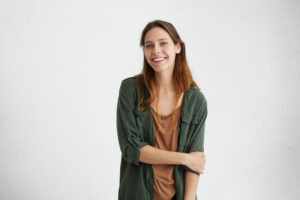 A problem with your tooth's shape, condition, or size may have little effect on your oral health or bite function, but it can still feel like more than a "minor" flaw. Without the proper corrective work, this kind of issue can rob you of confidence in your appearance and make you reluctant to reveal your teeth when you smile and speak. At our Houston, TX dentist's office, we can recommend a conservative cosmetic solution for this kind of trouble. With porcelain veneers, we can make careful changes that hide flaws while preserving much of your healthy tooth structure. After your procedure, you can feel thrilled to show off a smile that is brighter, more uniform, and no longer held back by any "minor" issues that once drew unwanted attention.
Minor Issues With A Tooth's Shape, Size, Or Condition Can Draw Unwanted Attention
Any tooth that feels like a poor fit for your smile can stand out, which means it can draw attention away from your appearance as a whole and toward a specific flaw you would prefer to keep hidden. Unfortunately, it can be difficult for you to stop people from focusing on these negative features, but that does not mean you can do nothing to address this concern! With the right cosmetic dental procedure, a tooth that previously stood out can be restored so that it no longer has undesirable effects on the way you look. We can use porcelain veneers to make these kinds of improvements while reducing the amount of work that has to take place on your tooth structure.
Using Porcelain Veneers To Fix Problems With Your Appearance
Through treatment with porcelain veneers, our practice can help patients who want to address problems with teeth that are blemished, chipped, misshapen, the wrong size, cracked, or even out of alignment. These restorations work effectively to cover up problems while only making changes to the front surfaces of teeth. A restoration is made based on the specific needs of the tooth to be covered. Once placed, they will remain in place permanently so that you no longer have to worry about any issues that detract from your overall smile quality. If we have concerns about the tooth's condition impacting your oral health or bite function, we can discuss the use of a dental crown instead of a veneer to make your desired improvements.
Talk To Your Houston, TX Dentist About Correcting Minor Smile Flaws
A flawed tooth may not be a problem for your oral health, but it can still be a concern because of its impact on your appearance and overall confidence. Fortunately, a conservative cosmetic procedure can help you put this problem behind you and enjoy renewed confidence in the way you look! If you would like to find out more, contact your Houston, TX, dentist, Dr. Vlachakis, by calling 281-974-4494.