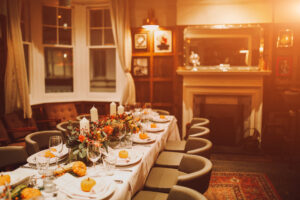 It is easy to feel excited for the holiday season, but while this time of year offers many opportunities for fun, it can be a good time to think about how you can make sure your smile remains healthy. Festive gatherings can be a delight, but they can also provide you with an array of tempting foods that can come with higher cavity risks. You can also have a more difficult time keeping up with your smile care routine if you travel as part of the season. Our Houston, TX dentist's office is happy to provide you with support during your regular dental exams to help you stay safe from cavity troubles.
The Holidays Can Be Fun For Families, But Trouble For Teeth
The holiday season is a great reason to catch up with family and friends. You can plan and host gatherings, or you can look forward to traveling with your family to see the special people in your life when you celebrate. While this can be a great time for everyone in your household, be mindful of how this season can affect your risk for oral health problems. Without the proper actions, you can wind up more vulnerable to trouble that will require restorative dental work.
Keeping A Consistent Routine While You Travel
Your routine will certainly change if you need to travel. Whether you intend to fly or drive, the interruption in your day can make many adjustments necessary. Make sure that these changes do not interfere with your efforts to protect your smile by brushing and flossing. Even a short interruption is enough to make you vulnerable to the buildup of tartar, something that can lead to an elevated risk for dental decay and gum disease.
Your Regular Checkups Can Keep Your Teeth In Good Health
Whether you worry that your holiday celebrations raised your cavity risk or feel confident you have kept up with the right habits, make sure you have your next oral health exam scheduled. When you book these appointments consistently, you will be able to stay better informed about the condition of your teeth and gums. This means you can receive timely warnings about problems with your dental health, which means they can be treated before there are complications. You also enjoy regular teeth cleanings that make you less likely to have problems in the future.
Your Houston, TX Dentist Can Help You Protect Your Healthy Smile!
A healthy smile is important at all times of the year, but it can be especially important to think about how you can protect your teeth during the holidays. If you are due for a dental checkup, or if you have any questions about your oral health, reach out to your Houston, TX, dentist, Dr. Vlachakis, by calling 281-974-4494.