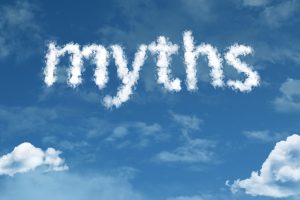 There are myths out there when it comes to nearly anything and everything under the sun. When we're talking about headaches and headache relief, the same is true. You will find all sorts of information about what's causing your pain, why it's hanging around, why it won't go away, and "remedies" that will make it go away. While these types of myths are things you end up hearing from other people, what you may not realize is you may even be creating some not-so-factual beliefs all on your own! Let's cover some that you might consider to be the truth (and that you should most certainly ditch ASAP).
"We Just Get Headaches In My Family"
You may have resigned yourself to the belief that your headaches are hereditary, that you just get them because your mom, dad, aunt, or someone else always gets them, and you leave it at that. While there may certainly be some truth to the fact that your need for headache relief has been passed down, that does not mean that you cannot find a solution! Perhaps you have inherited your father's misaligned smile, which is leading to your discomfort. Addressing the problem with dental care may be the treatment you need. Learn more when you come in to see us.
"I've Tried Everything"
If you have not yet seen us for an evaluation, a diagnosis, and treatment suggestions through our comprehensive headache relief approach, then you haven't actually tried everything! We know that once you've gone through approach after approach, it can feel easier (and less disappointing) to simply throw in the towel. We encourage you to come in to learn more. You may be surprised (and pleased) by what we offer.
Treat Headaches With Our Care Very Soon
Don't convince yourself that you're just stuck with headaches for the rest of your life. Instead, find out all that we offer and how our headache relief works ASAP. Schedule your visit with Healthy Smiles Family Dentistry today by calling (281) 974-4494. We serve patients from Houston, Memorial City, Bunker Hill, West Beltway, City Center, Hedwig Village, and all surrounding communities.