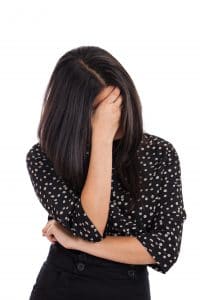 One thing we have noticed over the years is that patients sometimes feel embarrassed about their headaches. It's not so much that they get headaches but that they have had a hard time dealing with them, that they've been going on for quite a long time, that they don't understand why they're getting them, and more. If this describes you in any way, we'd like to remind you and anyone else out there in need of headache relief that there's absolutely nothing to feel embarrassed about or even shy about. Headaches are quite common and, on your own, can be very difficult to understand and treat. It's why we are here! So, set up time to talk with us and learn more about relief soon.
You Don't Know You're Doing Something Wrong
We frequently find that patients are embarrassed because they've been doing something that contributes to headaches. Maybe you have bruxism or TMJ disorder but you're not aware of it, so you haven't sought treatment. Maybe you have poor posture but you didn't realize. Perhaps you have a poorly balanced bite but you thought dealing with the alignment nature gave you was just how you were supposed to go through life. Remember: We're here to offer a diagnosis and to offer headache relief! Then, you'll be informed and will know how to move forward.
You Don't Know How To Fix The Problem
Even if you have an idea about why you're getting headaches, unless you're a doctor or a dentist, you won't know how to go about treating the problem. Keep in mind that we offer a full evaluation and comprehensive care for headache relief. We give you the answers and the tools you need to feel better.
Don't Feel Shy About Seeing Us To Care For Your Headaches
We understand that you might feel embarrassed or guilty about headaches that you have not been able to control. However, we strongly encourage you to see us soon, so we may help you treat them! Schedule your visit with Healthy Smiles Family Dentistry today by calling (281) 974-4494. We serve patients from Houston, Memorial City, Bunker Hill, West Beltway, City Center, Hedwig Village, and all surrounding communities.