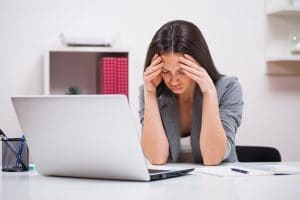 You know that your headaches are making you uncomfortable. This is usually your immediate reaction because you're the one dealing with pain. However, what you may not be paying much attention to is the fact that your need for headache relief is a sign that your head pain may be affecting many aspects of your life. If you have yet to muster up the motivation you need to call us and come in for an evaluation, a new perspective may help!
They May Hurt Your Relationships
If you're suffering from headaches, they may be hurting your relationships in some way. Do you have to leave events or get-togethers because of your headache pain? Perhaps you avoid certain social outings because you worry about a headache coming on. Maybe your activities with a close friend or spouse are consistently interrupted. Seek headache relief to prevent headaches from getting in the way of your happiness!
They May Hurt Your Work
If you've ever tried to get through your work, either in class or on the job, with a serious headache, you know that it can be extremely difficult. Whether you find you're calling into work, you're leaving early, or you're simply suffering while you try to focus, things could be much better. Seeking headache relief will mean you're no longer putting your work at risk!
They May Hurt Your Sense Of "Normal"
Over time, you may start to just expect headaches. As a result, you may accept them as part of your daily life, which can set the stage for what you consider "normal." Rather than allowing a lack of headache relief that's long-lasting to let you become accustomed to daily discomfort, we suggest you take our word for it: Your new normal can be much more comfortable!
Get The Headache Relief Your Life Needs With Us
See our team for your evaluation soon, so you can receive headache relief in the form of care that works for you. Schedule your visit with Healthy Smiles Family Dentistry today by calling (281) 974-4494. We serve patients from Houston, Memorial City, Bunker Hill, West Beltway, City Center, Hedwig Village, and all surrounding communities.