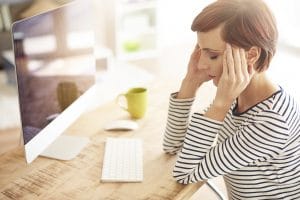 You may think that dealing with chronic headaches means that you have headaches every single day. As a result, if you would categorize yourself as someone with headaches that come and go (perhaps you tend to get them every few days or sporadically), then you may wonder if this counts. If headaches are something that are a continuous part of your life, rather than showing up once or twice a month, then this counts a chronic, too! We strongly encourage you to learn more about headache relief and what's going on.
Why Not Every Day?
The cause of your headache and your need for headache relief depends on your unique experience in the world as a human! While one person may deal with everyday headaches because the pain is caused by posture problems, you may only deal with headaches when you're dealing with heightened stress, during which you grind or clench your teeth. See? It's impossible to provide a blanket statement regarding what might be causing chronic headaches, how frequently you may get them, and on what days. However, it's easy to determine how we may provide you with relief when you come in.
Why Care For Your Problem Is Important
You may think that since you get headaches every few days, it must not warrant headache relief. We beg to differ! Imagine your life without these frequent interruptions, without the need to reach for pain relievers, and without pain. Remember, as well, that there may be an underlying problem that should be solved, such as bruxism, TMJ disorder, posture problems, misalignment, etc., that can lead to additional complications. Fix the source of the issue and you're offering your overall health and comfort serious protection.
Schedule A Visit To Discuss Your Headache Problem Soon
See our team for your headache relief answers and for treatment to address your unique needs. Schedule your visit with Healthy Smiles Family Dentistry today by calling (281) 974-4494. We serve patients from Houston, Memorial City, Bunker Hill, West Beltway, City Center, Hedwig Village, and all surrounding communities.